Introduction to The Starting Off Project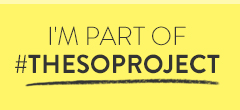 This post will be a little different to usual as it is an introduction to a series that I, and over 100 other bloggers will be doing!
It's a project called The Starting Off Project, it was created by Steph at StephsInsideVoice and basically the point of it is to put one post up a week at the same time, on the same day (it will be Tuesdays 6pm UK time), outlining and featuring one specific beauty topic in the hope it can help out some younger teens or anyone new to makeup! We will all be offering tips and tricks, plus different application/usage techniques depending on the topic that week!
This series will run for 10 weeks, starting on Tuesday the 27th August 2013.
In order this is how the posts will go up:
Tues 27th Aug – Skincare
Tues 3rd Sept – Concealer
Tues 10th Sept – Foundation
Tues 17th Sept – Bronzer
Tues 24th Sept – Blusher
Tues 1st Oct – Mascara
Tues 8th Oct – Eyeliner
Tues 15th Oct – Eyeshadow
Tues 22nd Oct – Lips
Tues 29th Oct – Makeup Tools
Leave me a comment if you are involved with this project too!
Hope to see you all Tuesday! 😀