Starting Off: Skincare
If you read my last post you will know that I am taking part in the Starting Off project – which is a series of posts going up, one a week, for the next 10 weeks with each post focusing on one specific topic.
The point of this series is to help younger teens or anyone who is unsure/very new to makeup and skincare!
So this week is week one and it's all about skincare!
Skincare itself is so important. Not just for the overall health, look and feel of your skin (not just for now, but when you get a bit older too) but it also gives you the best base possible so that your makeup looks it's best too!
When it comes to skincare, prevention is better than cure! Whether that's for moisturising, anti-aging, sun screen etc etc, if you protect your skin and look after it properly now, you shouldn't have as many problems as you do get a bit older.
I work within the beauty industry and so now more than ever I realise the importance of skincare, and when I started there a few years back I was a little less clued up about it all – and let me tell you this, if you ever want to see a horrified face, tell a skincare expert that you use wipes to take your makeup off/sometimes don't take your makeup off before bed at all….really.
So that is the very first thing I am going to emphasise, always take your makeup off before bed, and not just with a wipe! They are fine for travelling or the odd time but not as a daily routine. A proper makeup remover is not only better for the skin but as the makeup comes off so much easier you aren't dragging the skin – especially over the eyes which is also really important as you aren't then adding to any premature ageing lines.
The one I use at the moment is the Biotherm "total and instant cleansing micellar water for all makeup – face and eyes" which retails at £15.50 for 200mls.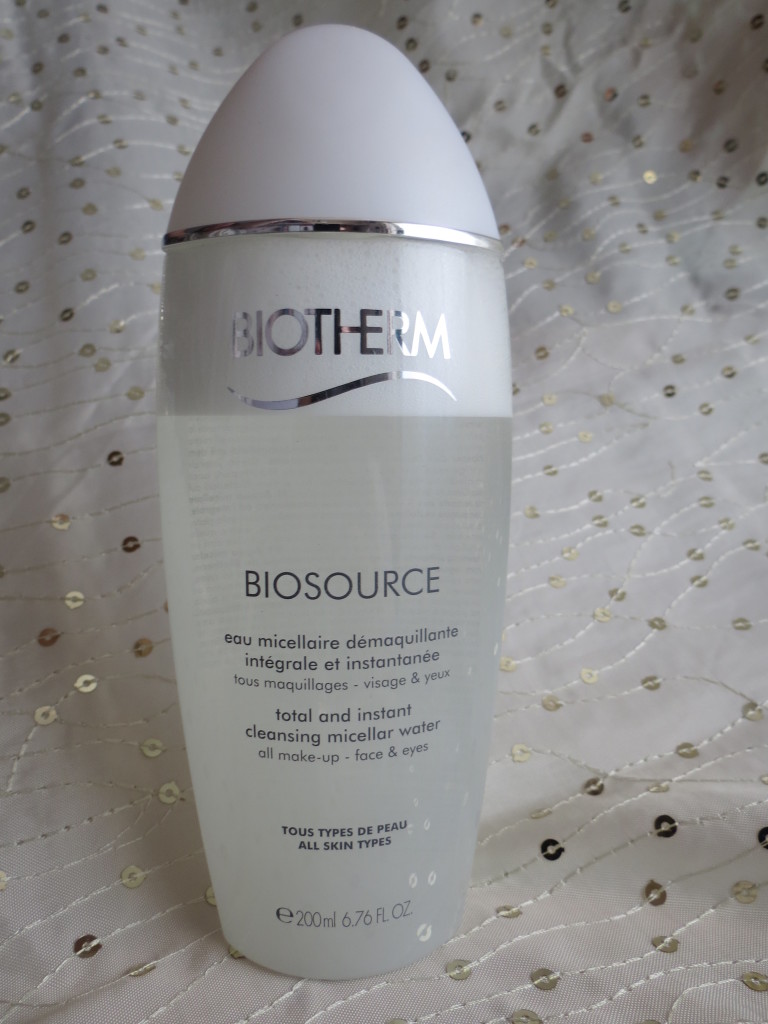 This for me is the perfect makeup remover as it takes my makeup off so easily, without dragging or stinging plus as you only need a tiny bit it lasts a long time!
There are a lot of cheaper alternatives I like though, for example the Garnier 2 in 1 makeup remover. It reails at £2.99 for 200ml. It may not be as moisturising, but it's the one I like if I run out of my Biotherm.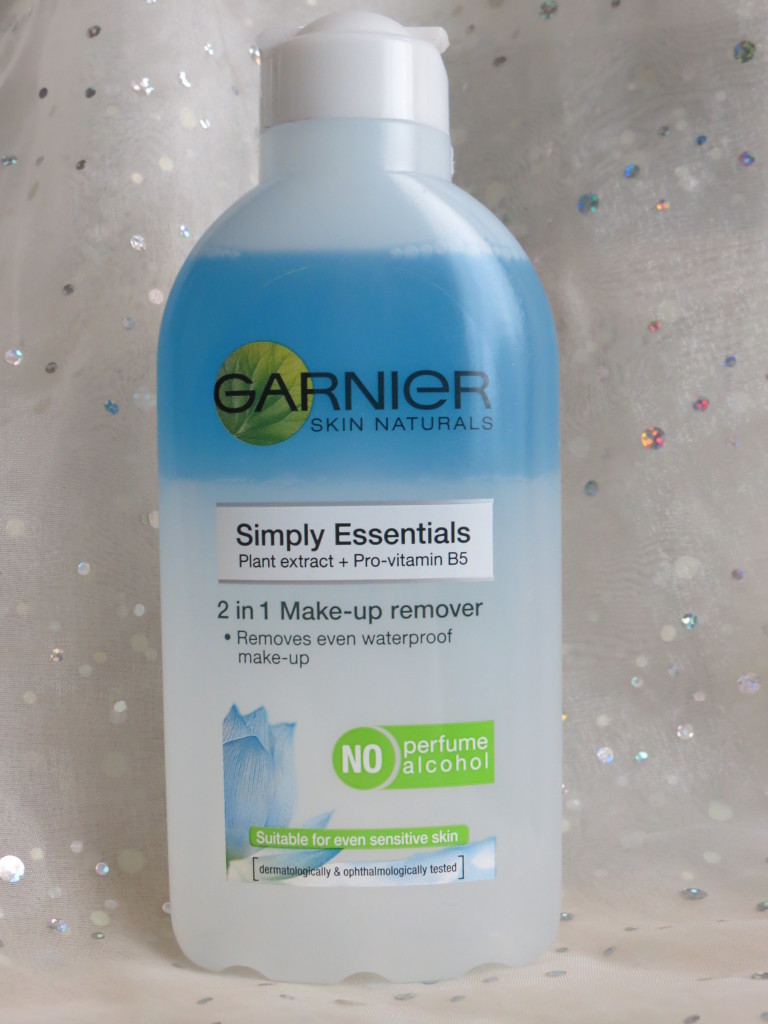 At the end of the day if you don't have a lot of money to spend on a makeup remover, I wouldn't worry. As long as you do get one which takes your makeup off, agrees with your skin and doesn't sting or make your face or skin feel tight then it will do the job!
Okay now that that is out the way we can get onto cleansers. Cleansers are what's used to clean the skin of any impurities left behind, or just from general build up, which could cause you to break out if you don't get rid of it.
Before you pick out the cleanser for you, it is helpful to know your skin type to get the right range of products for your skin. There are 3 main skin types: Oily/combination, Normal, and Dry (sensitive is not a skin type, as anyone with any skin type can have sensitive skin).
I have oily/combination skin usually, so I only go for these sorts of products as a product for dry skin would have too much moisture in it for my skin and would make me too shiny! Not a good look. On the other hand if you have very dry skin and you went for something for an oily skin type you wouldn't get enough moisture into your skin, so make sure you get the right one.
There are two main types of cleanser, wipe off and wash off and which ever one you go for is personal preference to you. I personally prefer the wipe off ones.
The difference between these two is that a wipe off, you put onto your dry face via your fingers or a cotton pad, massage it into the skin and then wipe away with a dry cotton pad. Wash off ones you wet the face first with water, then lather it up massaging into the skin and then rinse off with more warm water. Both do the job!
You would do this step after removing your makeup, or as the first thing in your routine if you don't have any makeup on. You can cleanse once or twice a day depending on your skin and what you feel you need, but I wouldn't do it more than twice a day unless you have been doing excessive exercise or have a real reason to.
These are the two wipe off cleansers I like: again a Biotherm one (to me Biotherm is one of the best brands for skincare I have ever tried) but second to that I like No7 – they always have offers on for example the 3 for 2, and if you keep an eye out every so often they bring out a voucher to get some money off which makes it even more affordable.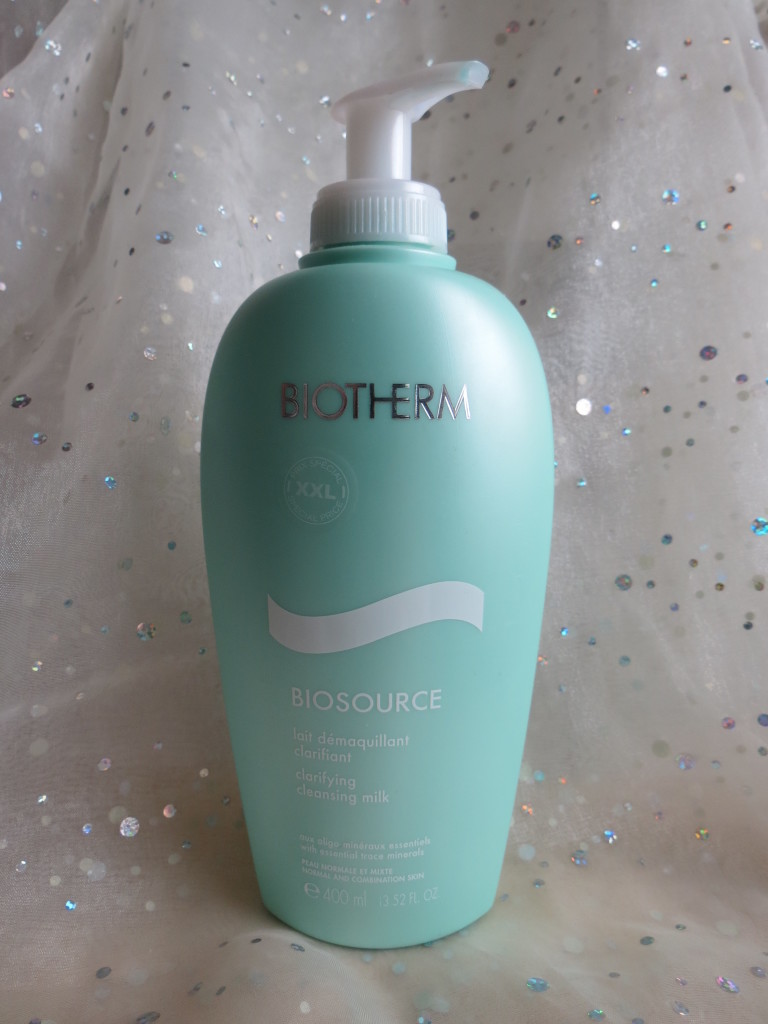 This is the Biotherm Biosource Clarifying Cleansing Milk which retails at £15.50 for the 200ml (the one I have is the 400ml as I got it on offer and I love it).
It's very gentle on the skin and feels very smooth and soothing without any irritation like it's stripping the skin too much.
This here is the No7 one (I have the normal/oily skin cleansing water which is also a wipe off, but as it's clear it was a nightmare to get a photo of! So have put this one up instead, which is the cleansing lotion for Normal skin – as I sometimes need this as the weather will get colder and my skin can dry out a little). This retails at £9.00 (but remember you can use a £5 off voucher at Boots when they come out).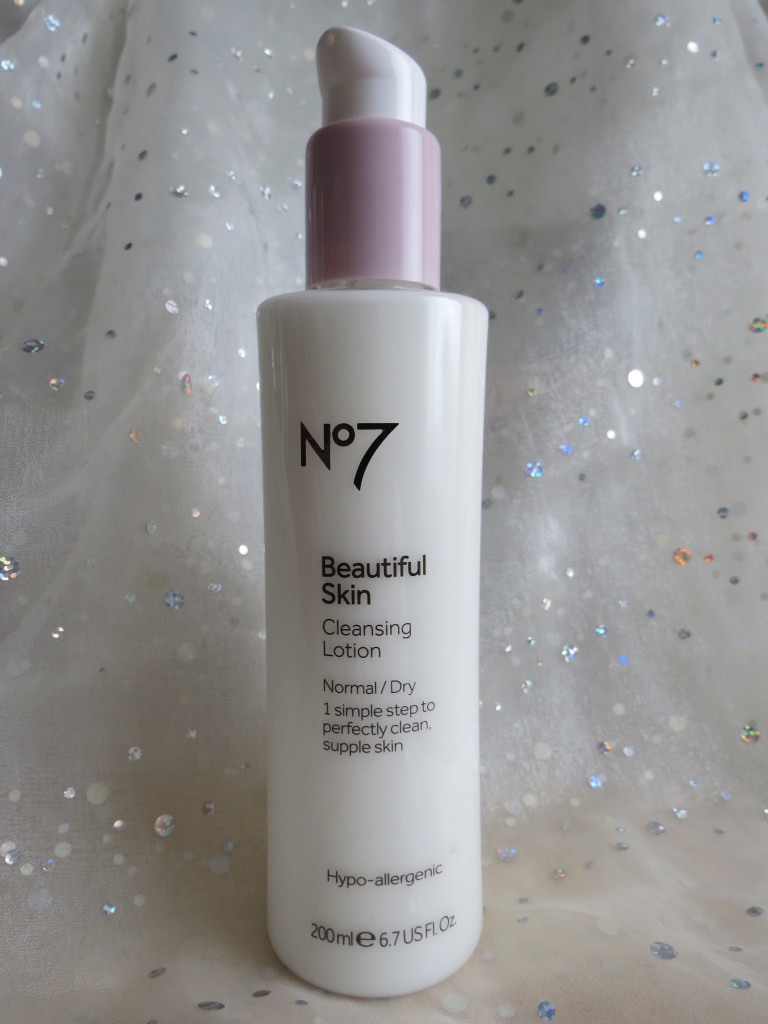 So we will move onto moisturisers… again make sure you get the correct moisturiser for your skin type the same as with the cleansers.
Moisturising is so important, even if you have the oiliest skin ever, just cleanse well and use the appropriate moisturiser for you. It may feel like you are just over loading your skin with moisture, but it will help your skin not produce so much extra oil in the long run – honestly.
The two moisturisers i have as my "go to" ones are again Biotherm an No7.
This Biotherm moisturiser I have listed in a few posts now as one of my all time favourite beauty products. It is amazing, so light and smooth, sinks in so easily, doesn't make me oily, does't really have a scent to it and has done wonders for my skins texture and look. The only down side is that it retails at £28 for 50ml…
The No7 range is actually a skincare line I have been really impressed with as their products are actually really nice and if I am not able to afford my biotherm at that time, I am happy using the No7 instead! This is the Essential Moisturiser they do, but they also have moisturisers specific to the different skin types. The one pictured here is for all skin types and retails at £9.00 for 50ml (or £4 with the voucher).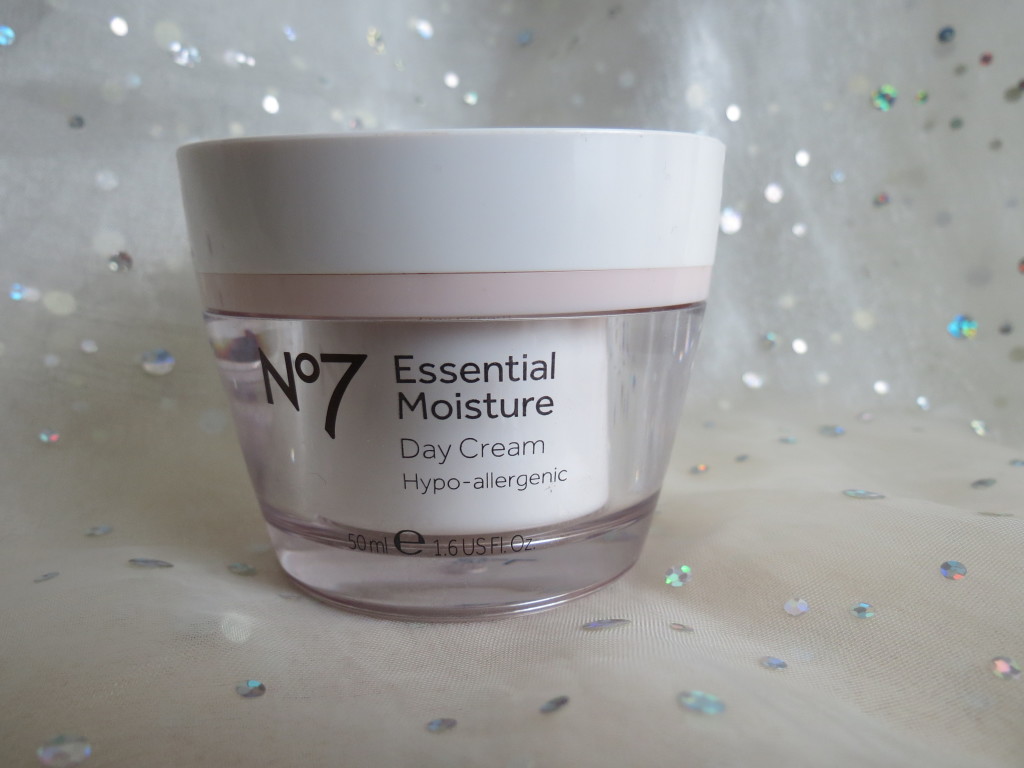 With moisturiser you should use your fingers to apply it in circular motions from the centre of the face outwards as it helps with blood flow and circulation.
Quick note about night creams! Night creams you can buy seperately in all these ranges, and can be a great addidtion to your skincare routine, but with my combination skin I find I just use one of these two moisturisers at nught also as night creams themselves can be too heavy on me a lot of the time.
Along the line of moisturisers we have eye cream… this step is optional but recommended. At the moment I am using some samples I received from Biotherm but the packets were all squished so this is the one I took a photo of which is a lovely light one. Eye creams are good at keeping round the eye area hydrated without clogging it up or feeling too heavy. Depending which ones you use they can also help with anti aging.
This is the Boots Simply Sensitive Hydrating Eye Cream and retails for £3.49.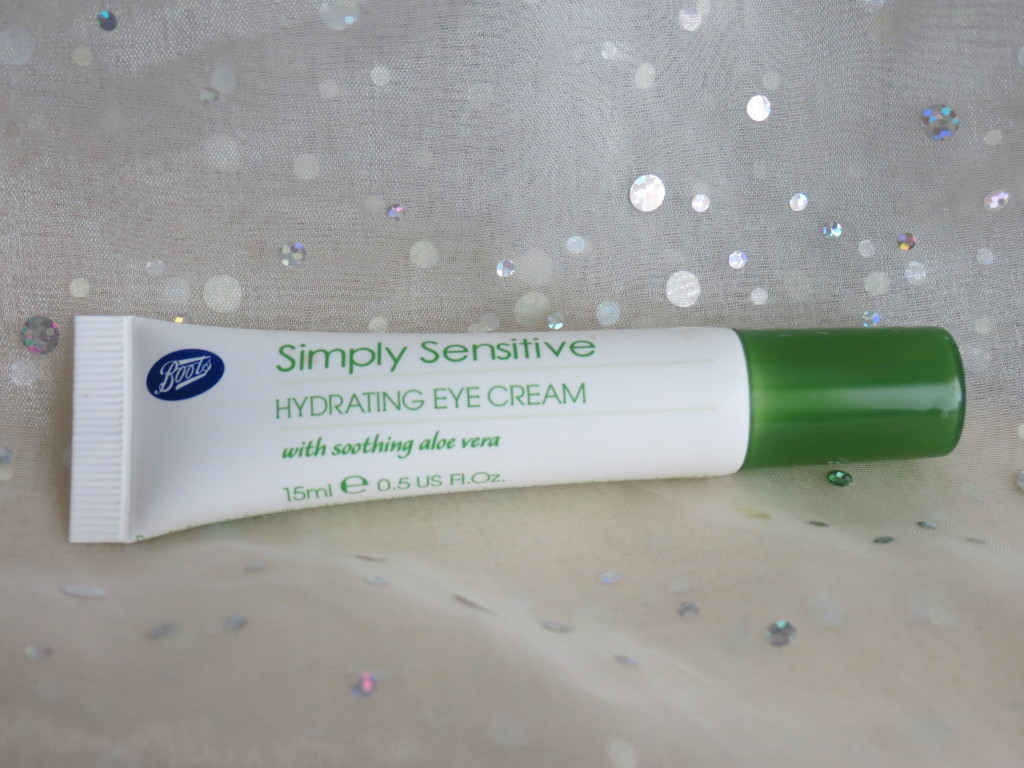 To apply an eye cream, do it on cleansed dry skin, just put a tiny amount onto your ring finger and lightly dab a small amount around the eye area very gently – do this after cleansing in your daily routine.
So now a quick look at exfoliators. These are a once or twice a week product, do not exfoliate every day.
Exfoliating gets rid of all the dead skin cells which if left, makes the skin look flaky and dull as opposed to smooth and glowing! After exfoliating you will notice an immediate difference in the feel of your skin and how smooth is also looks.
My exfoliator of choice at the moment is again from No7, and is the Total Renewal Micro-dermabrasion exfoliator. I find this one works amazingly well, doesn't sting or irritate, but really does exfoliate the skin really well. It retails at £11 for 75ml.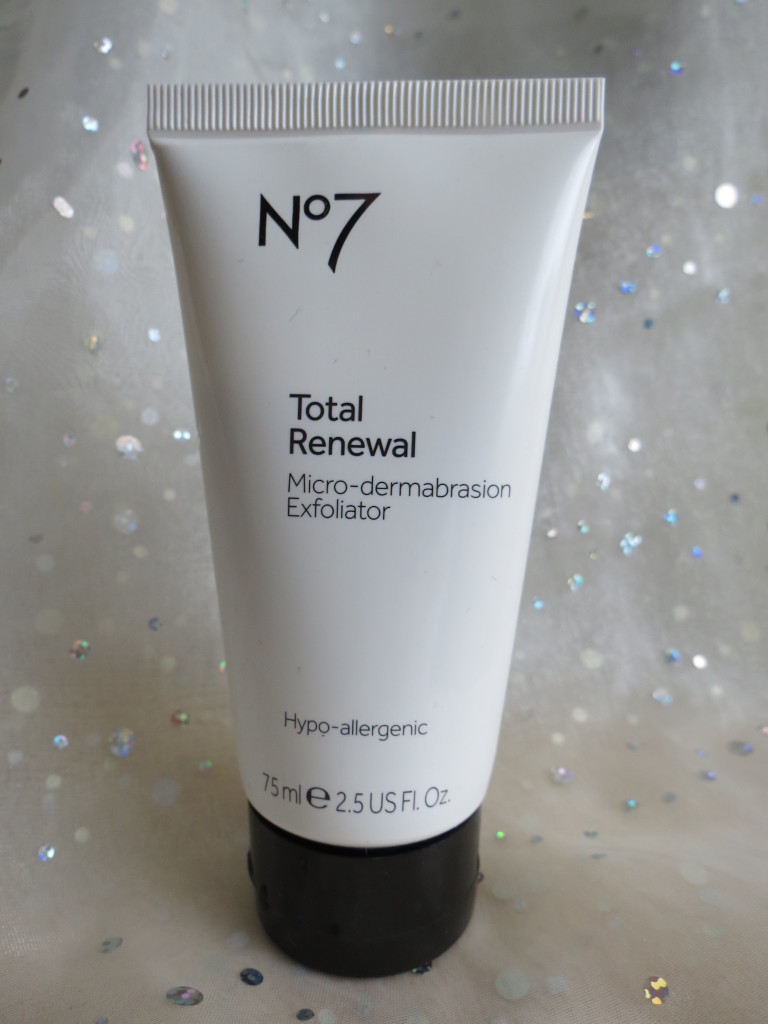 The only other product that is a total must personally is a facial sunscreen. Sun damage causes MOST of the premature aging in skin – and yet it is so simple to help prevent in using a sun screen daily! (I do forget sometimes, but if you are outside a lot, or if it is a hot day then really do remember to use it.) The one I like is the Elizabeth Arden 8 Hour Cream Sun Defence for face. This retails at £25 for 100ml – but you don't need one that costs that, any that has a full UVA and UVB rating will work well. This goes on before your moisturiser onto clean cleansed skin.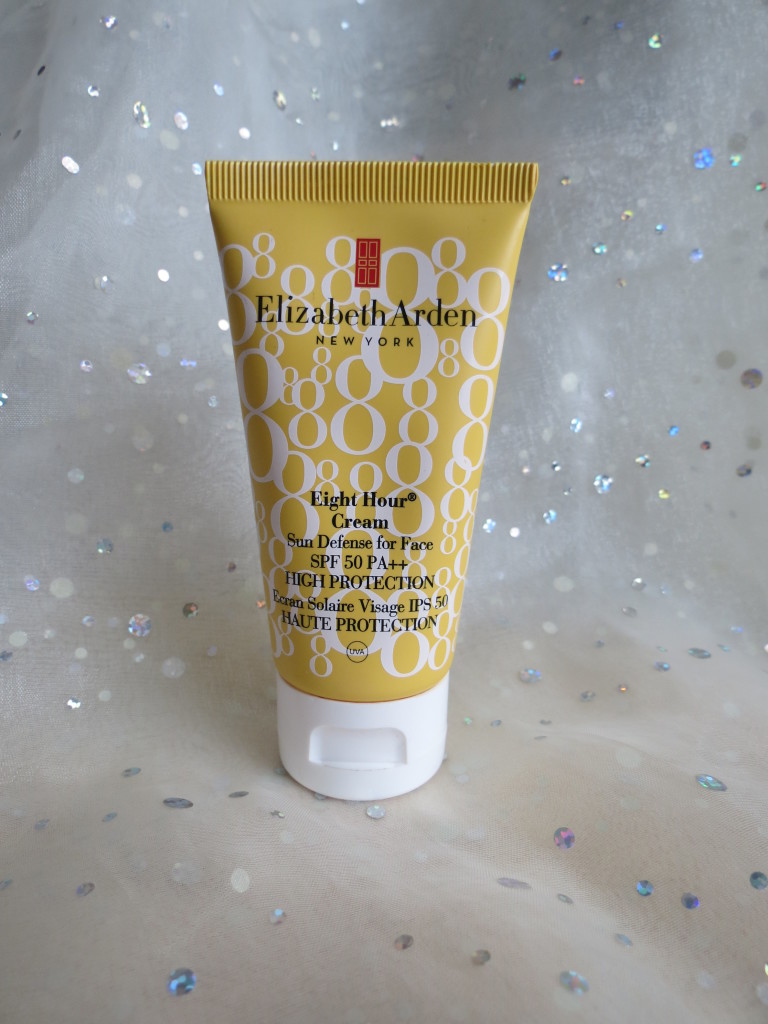 I would say that is your staple/basic items needed for a good skincare routine! You don't need anything else unless you want to add it in. There are other bits you can use along with this routine, for example anti aging serums, spot treatments, face masks etc etc, but I think this post is long enough for now! I just wanted to give as much detail as I could about the basics you really need to be doing.
If you have got down this far then I congratulate you! Haha, I realise this is a long post, but I feel you are better having too much information than too little!
Any questions please ask away!
Hope this helps!