Starting Off: Eyeliner
Eyeliner is without a doubt one of my favourite makeup items. For me it completes a look and just helps to accentuate your eyes, which personally is how I like my makeup to look most of the time.
If you have never used any eyeliner before, applying it can be scary. Applying it across your waterline/lower lash line when using a pencil liner is fairly easy to get right from the start, but I remember when I first tried to use liquid liner on my top lash line… it did not go well. I ended up with an uneven line, bits missed, and the rest smudged and all over the place. Not pretty.
I will say this now… it takes practice. If you can't do it now, just keep trying 🙂
Everyone has a different technique about how they apply liner to their upper lids. Some start in the middle, some at the outer corner and some at the inner. I personally start in the middle and take it to the outer corner and then from the inner up to the middle, but do whatever works for you – don't feel you have to do it a certain way because someone has told you to.
Also, do not feel pressured to apply your eyeliner in any other way than how you want to (unless your school/work has rules about it). Just because someone else doesn't like an extended flick/cat eye, very heavy liner, or bright orange eyeliner, doesn't mean you aren't to wear it that way if that's the way you want to! Same goes for if people tell you not to apply liquid liner to your lower lash line. I admit it can be tricky, but I do it and like it so you just do what feels right for you and your look.
So I have 4 different types of eye liner I will talk about in this post. I do really like these 4 eyeliners but it's more to show you the different types of liner you can get, as opposed to just what liners I like best.
One other thing I would say about eyeliners for your upper lash line (apart from pencil) is to make sure you let them dry before opening your eyes fully, as you run the risk of it smudging and transferring onto the skin above your eye.
First up we have my personal favourite, the MAC Blacktrack Fluidline.
This eyeliner comes in a little pot and is like a solid gel type consistency.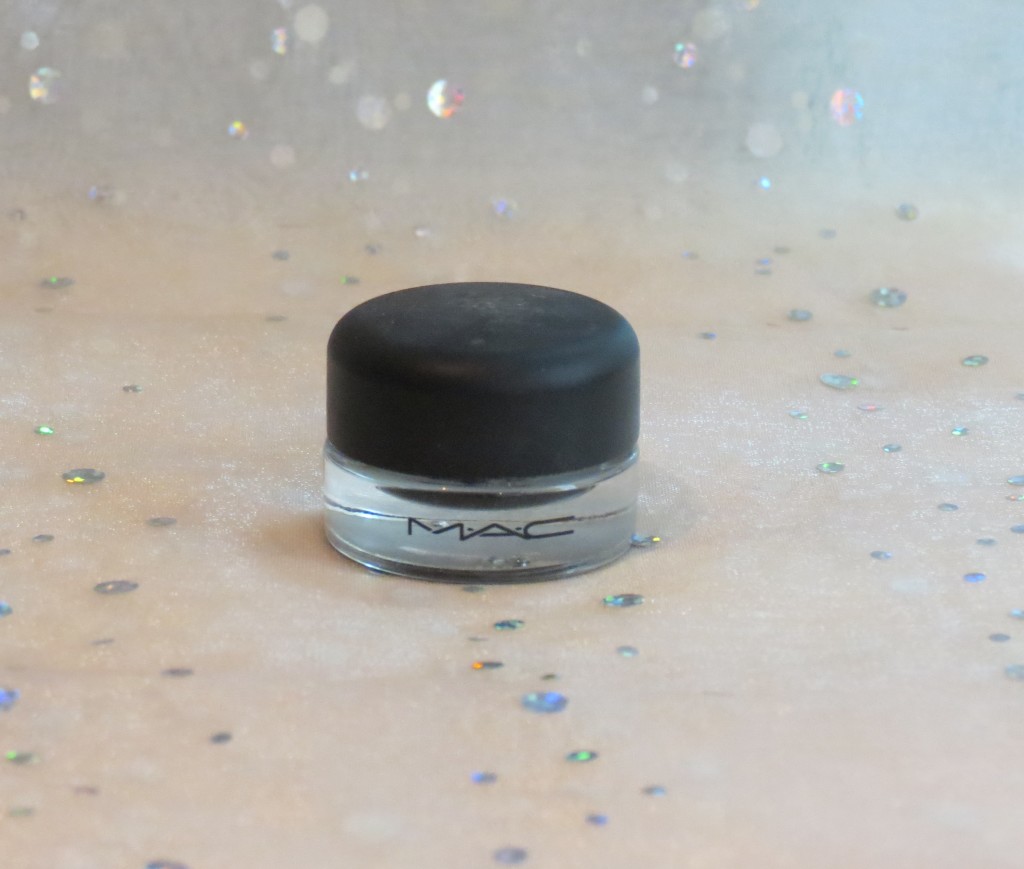 It comes in this little jar (no pic of the inside as it's nearly finished so just looks like a mess just now), but doesn't come with a brush so you will need to get your own. I personally use small eyeliner brushes or nail art brushes (!) to apply it as I find it makes it go on the right thickness for me, it goes on very smoothly due to the nylon bristles but you can make small flicks with it if you like too.
I got my bare minerals eyeliner brush in a set a while ago, but look how similar it is to this little nail art brush! You can get a set of nail art brushes for just a few pounds, and they honestly work just as well.

To apply this liner I just dip the brush into the product, and then in one line I apply it from the middle of my eye to the outer corner, and then from the inner corner to meet at the middle. It's so super easy to do with this liner and brush combination and is by far my favourite eyeliner.
Second to that we have the felt tip type liners, like this Loreal Super Liner in Black Lacquer.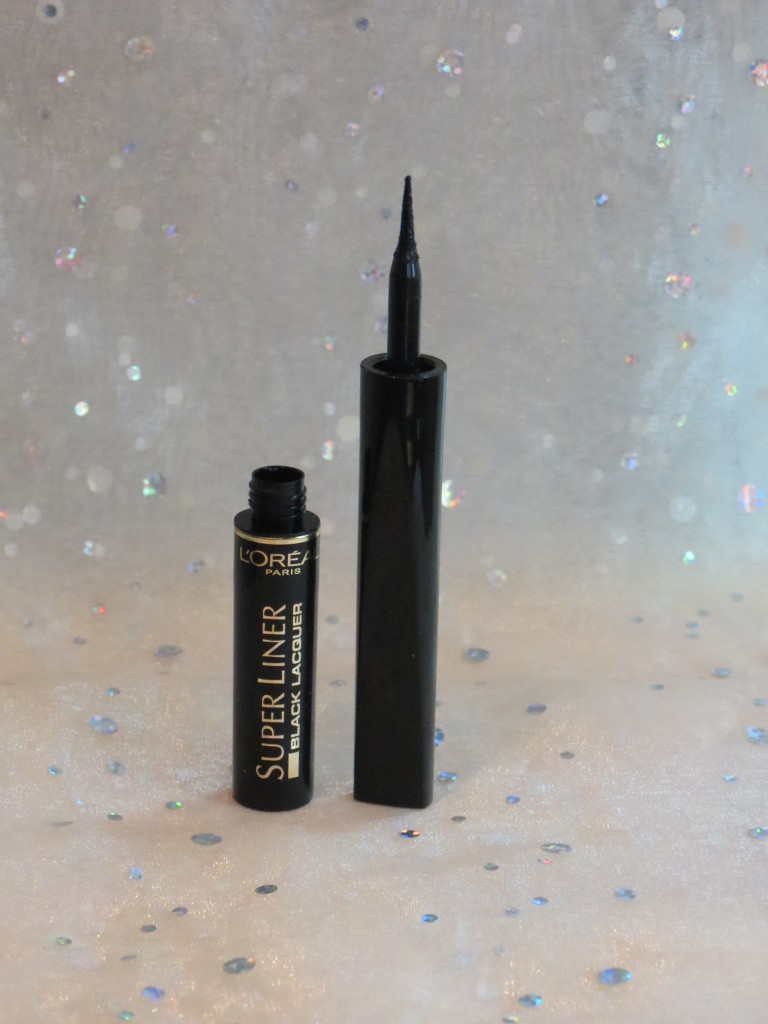 There are a few makes of this style of liquid liner, those which have the felt tip at the end as opposed to a little solid pointed end as most of the liquid liners have.
I prefer these felt ends as they are less harsh on the eye, they are a lot more flexible and I find them to be a lot easier to work with as a result. This is my "go to" eye liner if I am in a hurry or don't feel like faffing about with extra brushes as would be needed with the gel liners like the MAC one above.
The third type I will be talking about are the more and more popular "pen" eyeliners. It literally is what it sounds like, an eyeliner in pen form, for example this Be a…. Bombshell liner.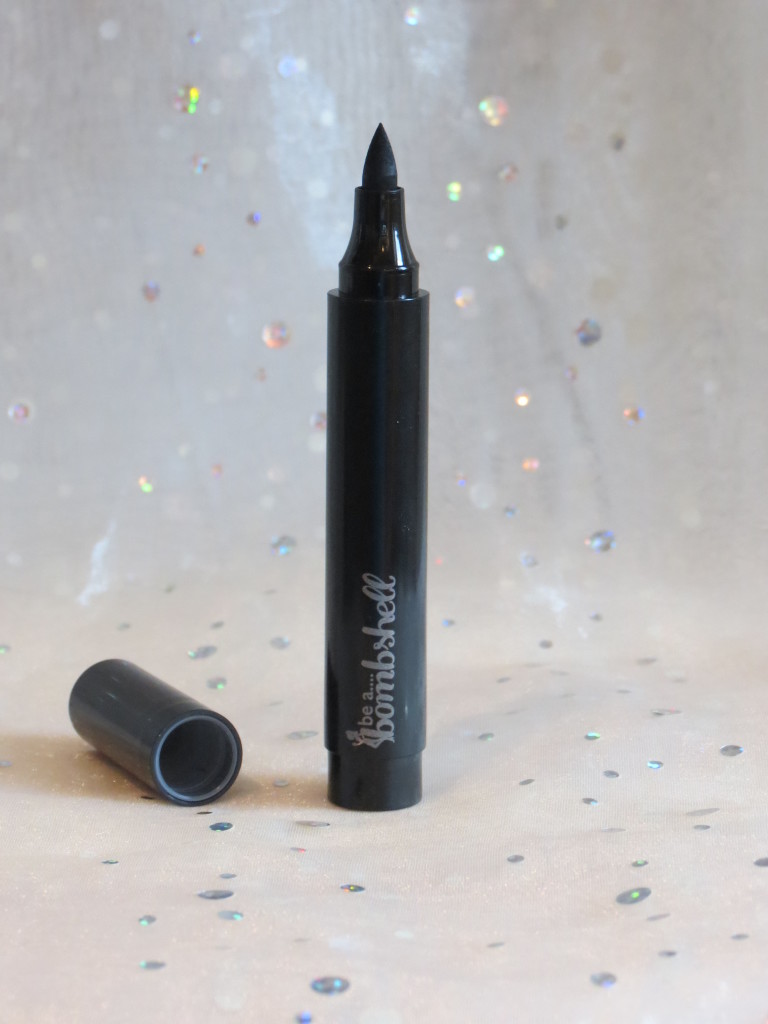 I understand the appeal in these liners, as they are quick and easy! My only problem with them is that if you get a pretty useless one, you will have a lot more issues with it than first anticipated. That plus they have a tendency to dry out quite quickly as opposed to the liquids or gels.
To apply this eyeliner you apply it like you are drawing on your eye liner with a marker pen (don't do that!), either in one or two sweeps, or even in a "connect the dots" style.
They can be amazing for doing winged liner or different designs as the pen nib is generally pointed helping give you a straight edge or perfect point.
Apart from drying out and sometimes not transferring onto the skin properly the only other problem I sometimes have with these is that if you make a mistake, getting them back off the skin can be tricky as they can have a slight straining affect, similar to how these styles of lip products stain the lips. But because of this, and that they dry a lot quicker than liquid liners, they are great for just applying quickly and you are then set for the day.
The last liner I am going to talk about is the pencil eye liner. This is probably the most widely uses liner type out of all liners, as it's quick and easy to use on both upper and lower lash lines, and with 0 drying time.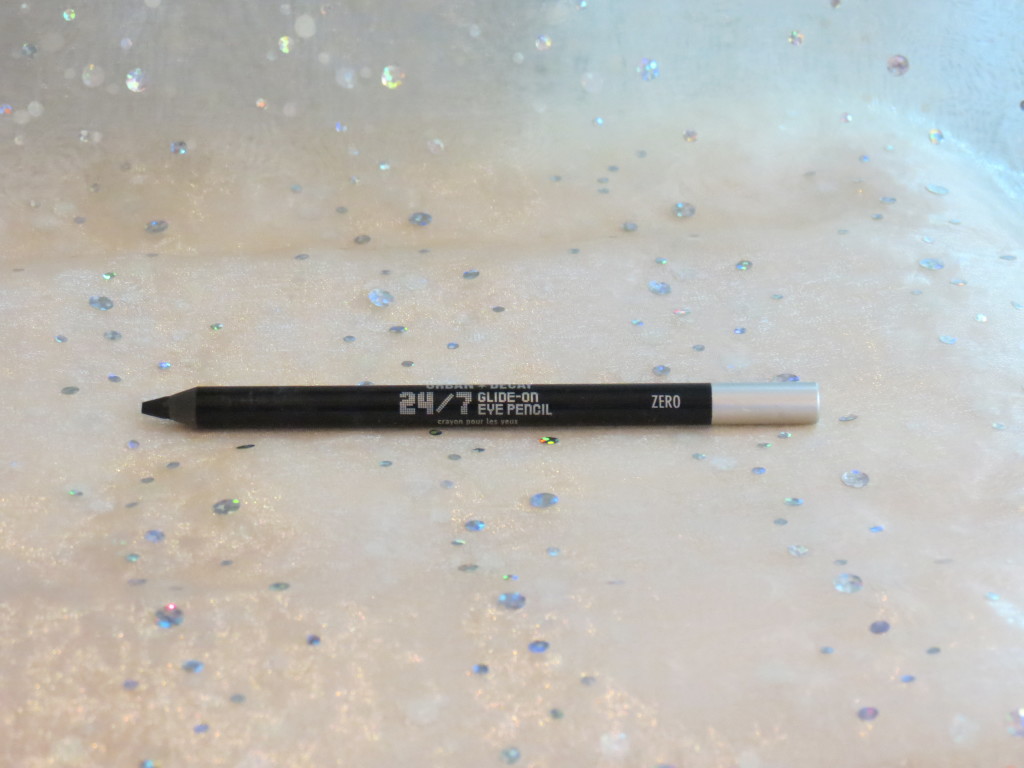 Pencils are my favourite for my lower lash line (most of the time) as you can smudge them out with either your finger or a brush, to give more of a smoky effect as opposed to a harsh line. You can also do this on the upper lash line to help give you a smoky eye without the harsh line of a liner.
So that's it for this weeks post on eyeliner! I hope you found this helpful!
What's your favourite type of eyeliner? Let me know in the comments below!