Starting Off: Lips
This is the second to last week of this Starting Off series, and I will be sad to see it end! But I do hope it has helped some of you, even just little tips and tricks here and there 🙂
This week is all about lips!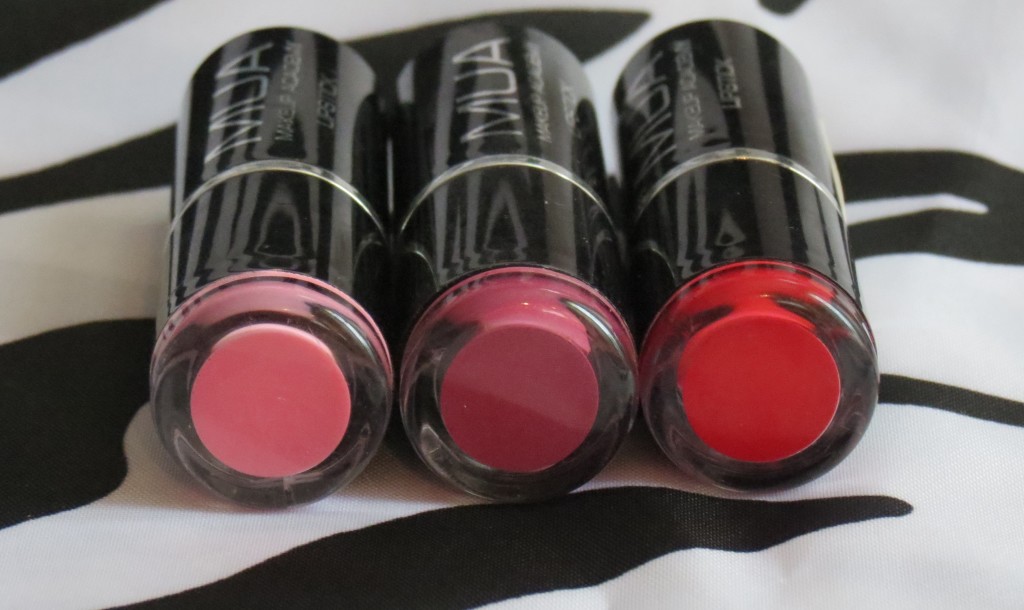 There are so many different ways you can get colour onto your lips now, not just from lipsticks and lipglosses, but also lip pencils, lip crayons, tinted lip balms, lip stains etc etc…
I won't be talking too much about all these types of lip colour products, just a short run down on the differences but then I will go more onto application. I won't be talking much about colours here, as a lot of the time colour is just personal preference!
As a very short explanation, in general, the longer lasting the lip colour, the more drying on the lips it will be. The most moisturising/glossy ones will give an amazing finish to your lips but will most likely wear off very easily.
Lipsticks are generally very smooth and creamy in texture and should stay on for a good couple of hours depending what you are doing, lip stains – which generally come in either pen form or a little glass bottle – will give your lips a lovely stained colour for a long time, but you may need to keep applying a gloss or lip balm over the top to stop them drying out.
Lip crayons I would describe as a product that falls in between a lipstick and a lipgloss, in that it looks like a large pencil/crayon, and you apply it as you would a lipstick, but they have the texture and shine that you would get from a gloss. The lip crayons do usually give you a fairly good colour pay off too.
When it comes to application for all of these products, you can apply them all straight from the pencil/tube onto clean dry lips, but if you want your lip colour to really last then you are best using a lipstick with a lip liner underneath.
Lip liners are literally just that, a pencil to line your lips with. Using a lip pencil will help to create the perfect lip shape, and it will stop your lipstick "bleeding" out past your natural lip line.
If you have fairly pigmented lips you may find it easier applying a tiny amount of foundation/concealer to the lips, giving you a blank canvas to start again while being able to get the lipsticks true colour showing.
The best way I have found to get lipstick to last is to draw around the edge of your lips with the lip pencil to get the exact shape you want, but then to colour in the rest of your lips with the same lip liner. Lip liners are generally matte and will really stick to clean, dry lips, and will really help your lip colour last a lot longer. Then, instead of applying your lipstick straight from the tube, try using a brush to apply it onto the lips. You will find you will get a much smoother, more even finish to the colour, it's a lot more accurate, and also it helps make your lipstick last longer.
If you want to leave it like this you can, or you could add a gloss over the top. If you apply gloss all over the lips it gives you a beautiful glossy sheen, or if you only apply some gloss to the centre of the lips then it gives the illusion of larger more pouty lips.
Another trick to getting your lipstick to last longer, is to apply the lip liner as discussed, followed by the lipstick on a brush, but then kiss/dab your lips off gently onto a clean tissue, and then apply the lipstick using a brush once more, then your gloss over the top if you wish. This helps to lock in as much colour as possible making it last a much longer time than if you purely used lipstick on it's own.
Sometimes you may not want a full colour, and find yourself reaching after one of the more sheer colour options. This is where the lip crayons, lip stains and lip glosses can be perfect, depending on your desired look/result.
The last thing I will mention about using these lip colours, is to make sure your lips are clean, dry (apart from maybe a little lip balm) and smooth. Applying lipstick over dry/chapped lips will make the flaky skin stand out and isn't the best look.
Just either buy a lip scrub, make your own (mix a little olive oil with sugar) or use a soft toothbrush to buff away all of the dead skin cells, giving your colour the best lip to stick to.
I hope this was helpful and that you try it out!
What are your best tips at making lipstick look it's best? Or how do you get it to last as long as you can? Leave me a comment and let me know! 😀