Empties #2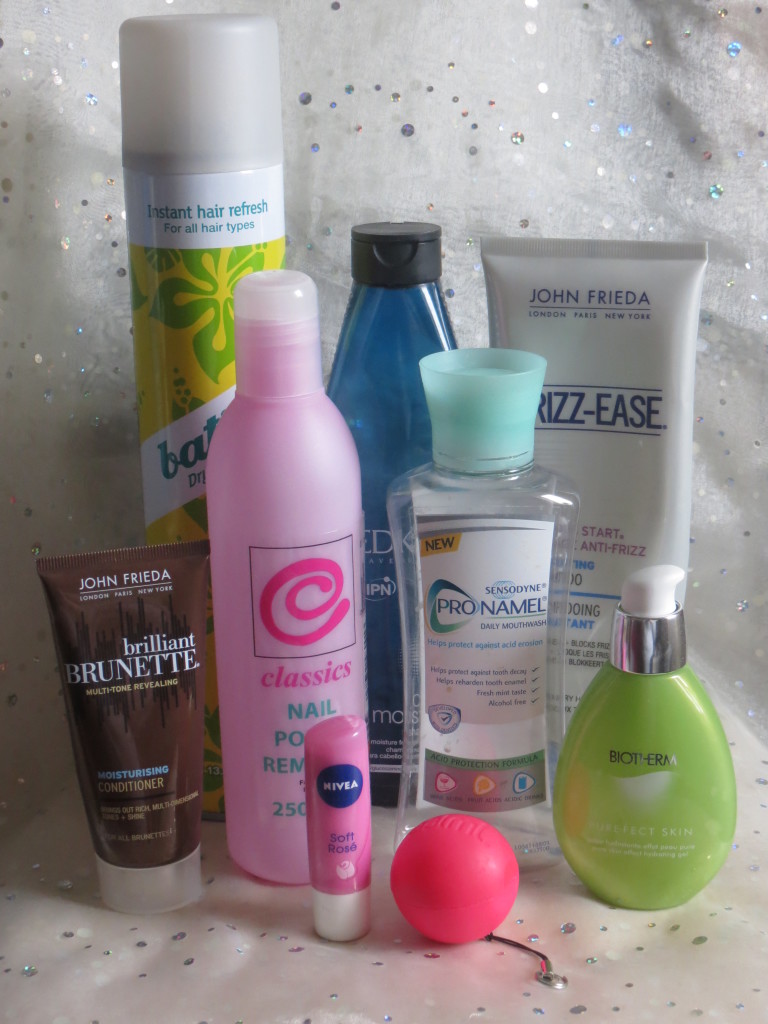 So this is my second ever empties post and I am really excited to be writing this post as I have always been quite bad for not always finishing products.
I am the sort of person who jumps from one product to the other a lot of the time – but since having my blog it's given me a reason to fully finish products and I must say it's a very satisfying feeling!
I can see empties posts becoming a fast favourite of mine to put up here! Plus they are one of my favourite types of blog posts to read (and watch on YouTube).
Anyway, onto the empty products!
So I finished 9 products since my last empties post here.
First up we have the haircare products I finished…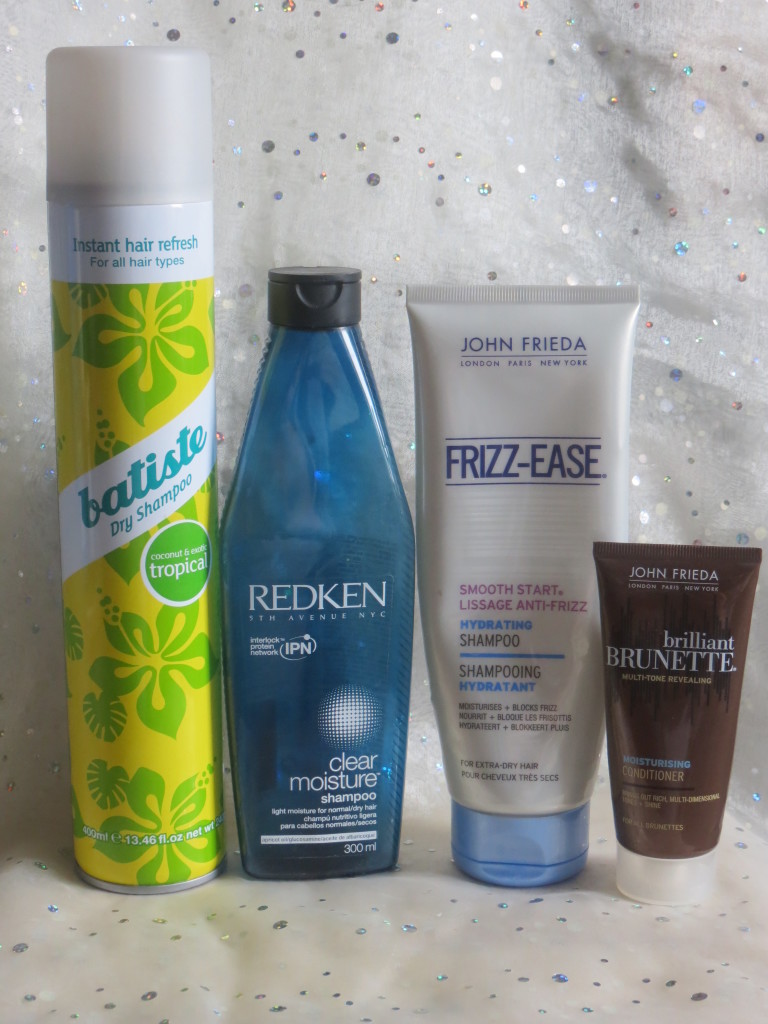 I go through a lot of shampoo, as I wash my hair at least every second day, and my hair is fairly long so I need quite a bit to get it all clean!
Starting on the left we have the Batiste Dry Shampoo in the tropical scent. So far this is my favourite one! The blush one smells lovely too but I feel it's quite a bit more powdery when in the hair. Need to try the others!
For the price I think that the batiste dry shampoos are great (hence finishing this larger size) so definitely expect to see more in later empties posts.
Next to that we have the Redken Clear Moisture Shampoo. I won't talk about this too much as I have already done a full review of it here.
As a quick summary though this is an awesome shampoo to use as a clarifying shampoo once a week or so, depending on your hair type and how much product you use on a daily basis.
Next up is the John Frieda Frizz Ease Hydrating Shampoo. Again I have done a full review on this shampoo here, but again to sumarise I don't actually have massively frizzy hair so didn't notice a huge difference in that sense, but I got quite a few comments about how shiny my hair was after using it just a few times.
On the right hand side we have the John Frieda Brilliant Brunette Shampoo in miniature size. This shampoo was really great for bringing out all the tones in my coloured hair. My hair is naturally a fairly dark brown and even with a colour on it's never anything too far from my natural colour so I am unsure how it would be with dramatically coloured hair, but with mine it did definitely make the colour brighter. Will definitely be repurchasing this down the line!
Next we have the face products…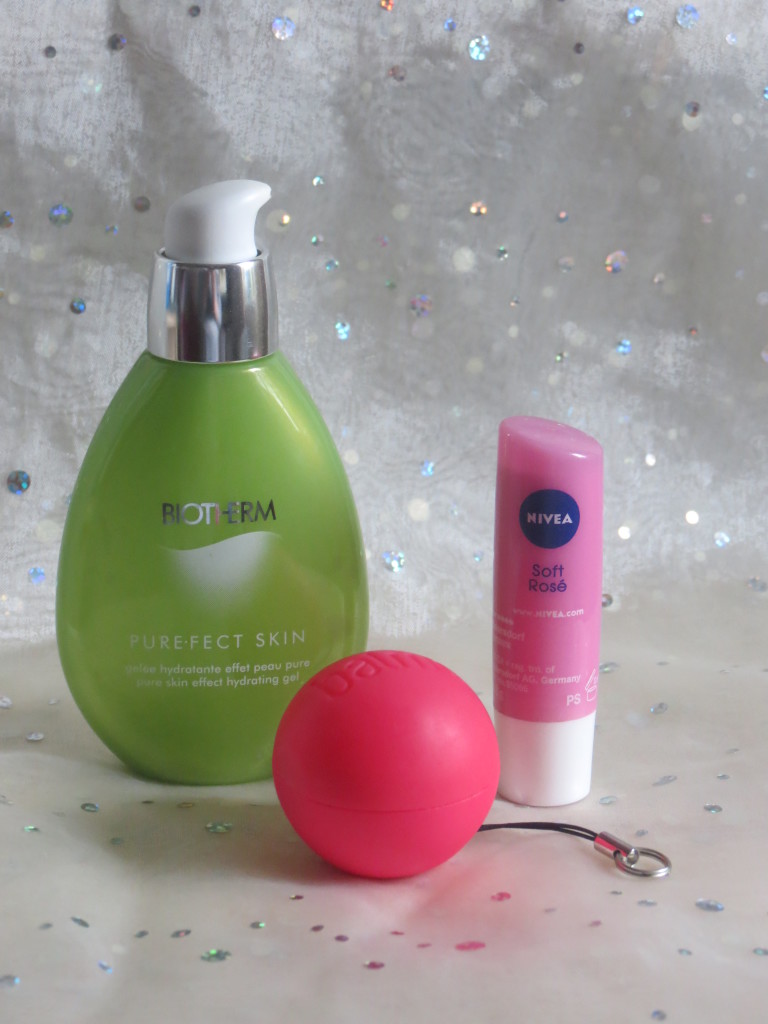 On the left I have finished a bottle of the Biotherm pure.fect skin hydrating gel. This was a facial moisturiser I really enjoyed using. I was actually not overly keen on it when I first bought it and used it, but after a few weeks it became a firm favourite. The fact it was a gel means that it was nice and light on the skin along with being easily absorbed, but at the same time it was still really moisturising.
I won't be repurchasing this product for two reasons though… one being that I have (and am nearly finished) a different Biotherm moisturiser which I prefer to this one, and also because later this year Biotherm will be leaving the UK so I will have issues getting hold of it! Sad times all round.
To the front we have the Balmi lip balm, and to the right we have the Nivea Soft Rose lip balm. Neither of these were either amazing or disappointing. I liked them both enough to finish them completely though. The Nivea one has a slight pink shimmer to it and a light rose scent, and the Balmi one has no shimmer or colour but has a slightly more obvious scent of raspberry. At the end of the day they were both cheap and cheerful lip balms and I would repurchase both. (Already have done with the Balmi in fact.)
Last but not least we have two miscellaneous products but I thought I would include them anyway as they are both (in my opinion) beauty related and I did finish them.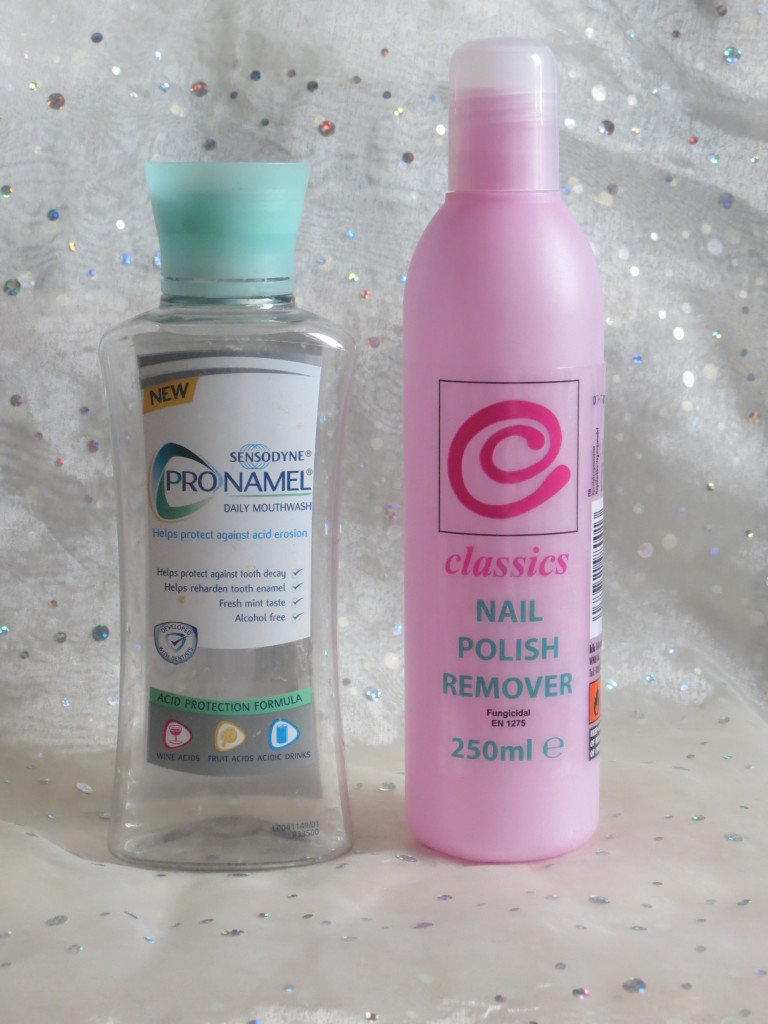 On the left we have the Sensodyne ProNamel Daily Mouthwash. Not a huge amount to say about this product as it's fairly self explanitory, but I like the Sensodyne ProNamel range and it's got a lovely taste to this one without feeling like it's burning a hole in your face as some of them tend to.
The the last product I used up was the Classics Nail Polish Remover. Again not too much to say about this… it was really cheap. It did take all colour off really quickly but it's also really bad for drying my nails out. I don't like spending a lot of money on a nail polish remover as I feel like to an extent they all must do the same thing and none of them can be THAT good for your nails anyway…. having said that I think this one was maybe just a little too cheap quality and possibly did more damage than good.
So that's it for the end of this post! I hope you enjoyed reading it.
Have you tried any of these products? What did you think? Let me know in the comments below!