Empties #1
I am quite excited to be writing this as empties posts are one of my favourites, due to the fact it can take me ages to finish a product as I am really bad for jumping from product to product, and also because you get a mini review on a varied selection of products in each empties post.
I wanted to make sure I had a few products to show before doing this post, but because of that I probably won't be doing too many empties products throughout the year.
In this empties post I have 8 products to show you. (Although actually 9, as I went through two bottles of one of them.)
So in the first photo we have hair and body products: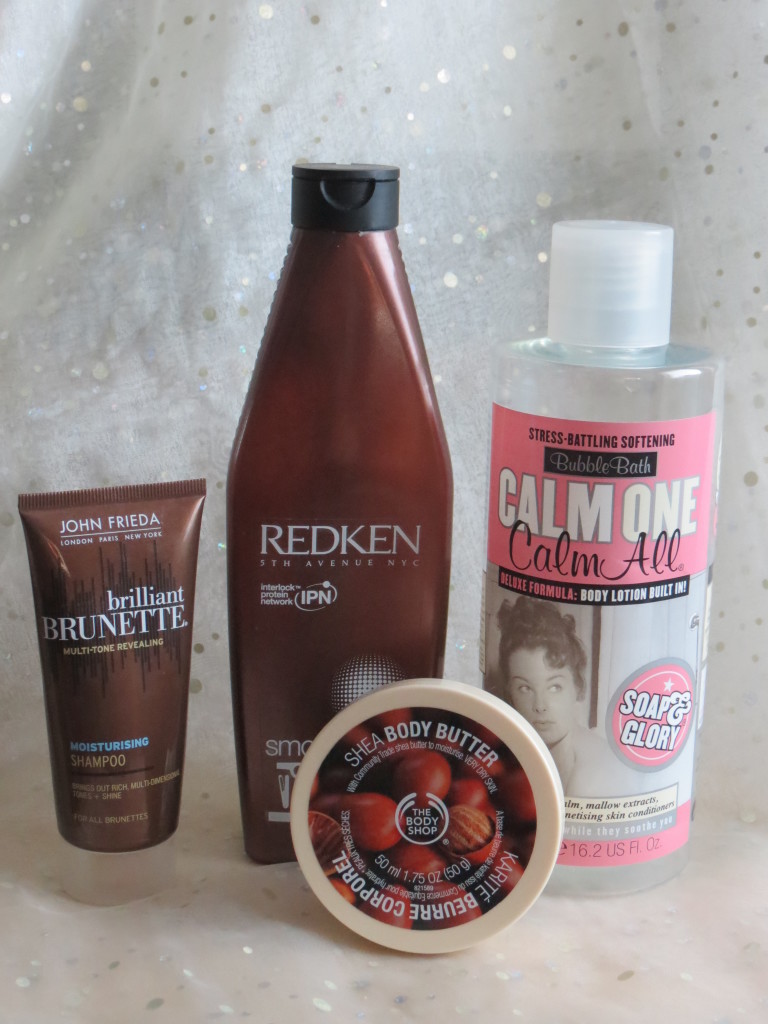 First up we have the John Frieda Brilliant Brunette Multi-Tone Revealing Moisturising Shampoo*. This was just a small size but I really enjoyed using it (the conditioner is good too, but personally I didn't find it anything special), and I have recently purchased a large size shampoo from the Illuminating John Frieda range in hope it works just as well as this range did. It has a lovely scent to it and really does help to bring out the different tones in darker hair.
Next to the John Frieda Shampoo we have my beloved Redken Smooth Lock Shampoo. In the space of starting to collect empty bottles for this post I have actually been through 2 bottles of this. It is most definitely one of my favourite shampoos I have ever tried. The scent is lovely and fresh and it leaves your hair so amazingly soft and smooth. Love it!
We then have the Soap and Glory Calm One Calm All Bubble Bath with built in body lotion! This smells amazing and produces lovely big soft bubbles – perfect for a lovely warm bubble bath! I either use this on its own, or mixed with a bath bomb which produces the colour and scent but not the bubbles. I have been having a lot more baths now the weather is getting colder and cosy nights in are becoming more and more inviting. I will definitely be repurchasing this.
Lastly in this photo we have The Body Shop Shea Body Butter. This extra thick moisturiser smells SO good. Like amazingly so. It's not a full size pot of body butter, but still took a while to go through! If you wanted to use this as an all-over body moisturiser, to get it on the skin and have time to let it all sink in properly, it will take you literally about an hour. In saying that, it is perfect for picking one area of the body to concentrate it on, and also for dry/rough patches. I have repurchased two of these, but not in this scent. I bought the Strawberry and the Chocolate. Can't wait to start using them!
Next we have the four skin/face products I finished.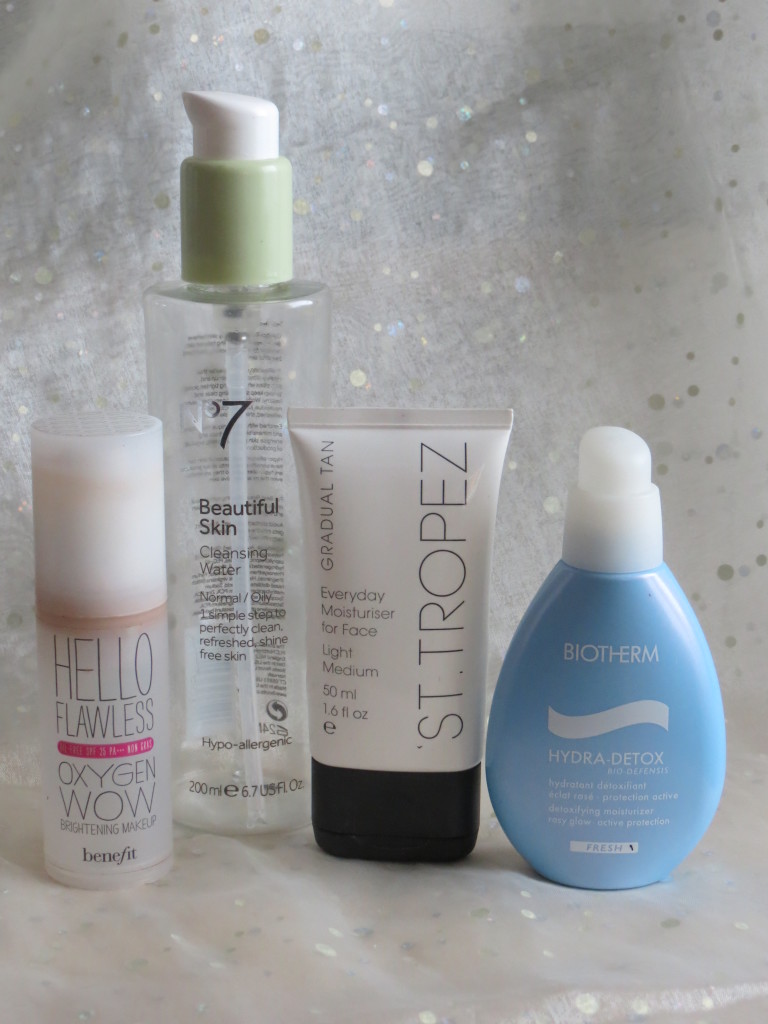 I love this foundation. That is all.
(Or as a slightly elongated summary… it's one of the best foundations I have tried, it goes on so easily, it's not too runny or too thick, plus it blends into the skin amazingly well. They don't have too many colours is one of the only downsides, but the shades they do have I feel would suit a lot of different skin tones. Definitely one to try! Would I repurchase this? I already have! Plus a paler shade for when I want uber lazy makeup and don't want to faff around with fake tan or bronzer.)
Beside that we have a bottle of the No7 Beautiful Skin Cleansing water for normal/oily skin. It's a decent cleaning water for the price! It doesn't make the skin feel stripped of all moisture, and does take all makeup off. You will need a good moisturiser after it, and also a good eye makeup remover, as it's one not-so-fabulous downside is that waterproof makeup can prove a bit of a challenge for it at times. I have a feeling I am now onto my 3rd bottle of this cleansing water.
Standing beside that there is the St Tropez Gradual Everyday Moisturiser for the face. I really enjoyed using this product, but I do find it fairly pricey for what it is so I am looking for a cheaper alternative just now. It applied really well though, never looked patchy or streaky and could just apply a little every day or every second day for a lovely natural looking glow to your skin.
Lastly we have the Biotherm Hydra-Detox Detoxifying Moisturiser. Unfortunately this has been discontinued now! It was in a sale as it was being discontinued, so I thought I would give it a try to see how I liked Biotherm as a brand. Unfortunately for me I totally fell in love with this brand! And with this product! And I wanted to repurchase it forever! And it was discontinued…. Luckily though they have a lot of amazing products and I have found another one I really like from their range. It's not the cheapest of skincare brands but is beautiful and I would really recommend you try them.
So that concludes my first ever empties post. If you would like to see any full reviews on any of these products then let me know. Have you ever tried any of these products? Let me know in the comments!