Benefit Stay Flawless 15-hour Primer
This post will be on the Stay Flawless 15-hour Primer from Benefit.
I did a quick mention of this in a post a short while ago when I reviewed the Hello Flawless Oxygen Wow Foundation by Benefit saying that I was liking it so far but wanted to use it a few more times before I did a full review, so used it for another full week before writing this!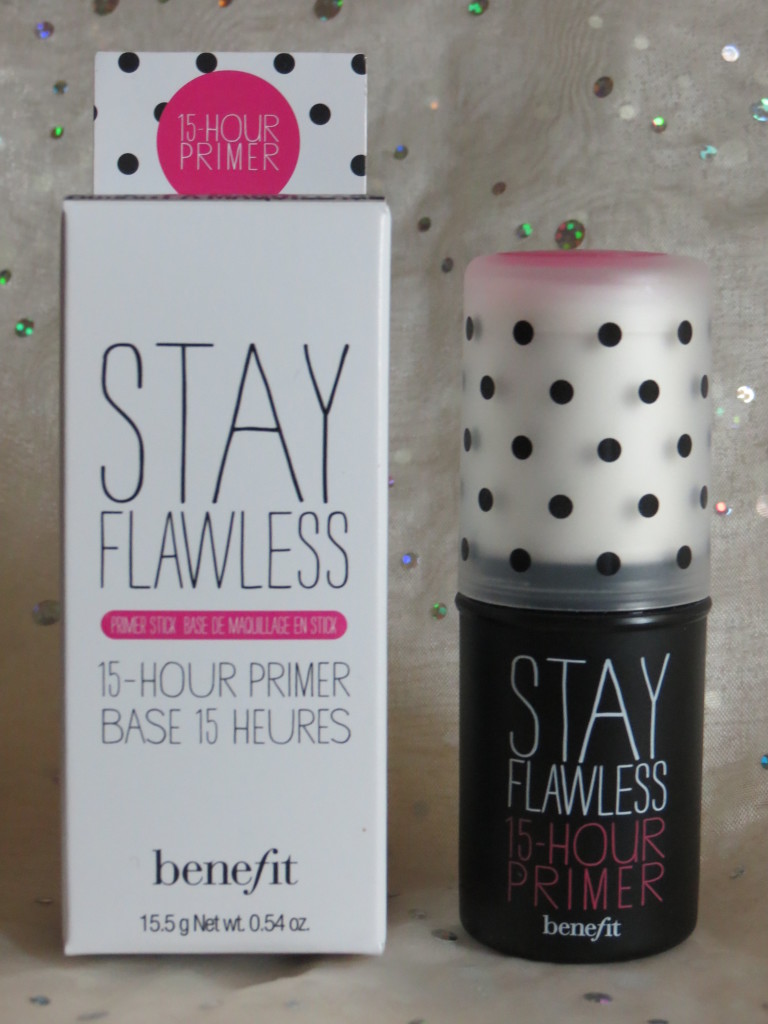 I like to use a product a lot/for a long time before doing a full review as I feel that sometimes it can take a while of using the product, getting used to the product, and finding the best way it works (or doesn't work) for me – before giving a full opinion/review of that particular product.
The reason I mention that now is that for the first week or so of using this I thought it was good but nothing amazing… so I changed the way I used it to try a different method/technique, and now I adore it! (Turns out if you read the instructions and use it how you are supposed to, it works better…. who knew 😛 )
For anyone unsure, or unfamiliar with primers, they are a product you use ontop of your moisturiser, but underneath your foundation. They all help to smooth out the skin and prepare the skin for your foundation, and help it look better and last longer.
On the back of the box it says "Out instant PRO-long primer acts like a magnet to lock on your foundation for 15 fresh & flawless hours" and I would say that it does keep my makeup on for pretty much the full 15 hours with maybe just one or two powder touch ups as I do have combination skin so my t-zone can get a bit shiny, but it required no foundation touch ups.
The product itself is in a tube and it winds up and down, and you just sweep it over clean moisturised skin as a base for your foundation, and as it's in stick form it's super easy. It has no scent and is suitable for all skin types and colours as it's transparent.
So the was I WAS using it at the start (the not so amazing way). What I was doing was applying it over my face via the stick, but was then blending/rubbing it in with my fingers and letting it sink into the skin before applying foundation…. what you are SUPPOSED to do is apply it onto the face via the stick, but don't touch it or rub it in, and straight away apply foundation on top and they then blend together and that's how the primer helps set the foundation to last all day.
You can feel it working as when you apply foundation straight away on top you can feel it dragging a little (not really bad, just enough to notice a difference) as it's all working with each other and helping it really stick to the skin for the day. It does also really help the foundation to look super smooth on the skin also, and takes less blending and buffing into the skin to get it giving that lovely smooth finish.
The only thing I see as a slight negative is that I do feel I need more foundation to cover my face, as it does drag a tiny bit so doesn't spread as far… but then again once it's on it's on, I am not needing to reapply it, so I am probably only going through the same amount of foundation over all anyway!
 To sum up, if you use this product the way it was intended, it's really amazing! In saying that, if you have it and find it's not working for you this way, try another way and see if you can find the way it works with you and your skin the best. I am a great believer in playing around with products to find a way it works for you, than to automatically decide you don't like after only one or two uses.
Have you tried this? How do you find it works for you? Leave me a comment and let me know!