Versatile Blogger Award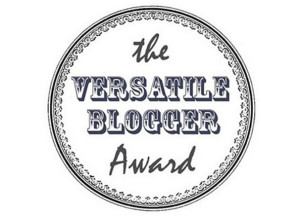 The other morning I woke up to find out I had been nominated for yet another award! Then before I had a chance to post it up I was nominated for the same award by another lovely lady! Feeling a bit special!
This award is called the Versatile Blogger Award, and this award is given to blogs/bloggers who you feel really have covered some unique topics/have a general uniquness to their blog, have high quailty posts, high quality photos, and have touched you or you just really love reading. (You can see why I feel a bit special being nominated twice!!)
So firstly I was nominated by the lovely Emma at EmmaLouJohansson and then a day or so later by the lovely Rachel at The Drugstore Life.
So the rules for this award are…
Display the award on your blog
Mention/link the lovely people who nominated you
Nominate another 15 blogs/bloggers who you feel should be given this award
Inform them you have nominated them
Write 7 facts about yourself
So the 15 blogs I am nominating for this are:
So those are the lovely blogs I nominate for this award!
Now 7 facts about me….. hmm I always find this tricky!
I would muchhh rather stay in for a chilled night than go out clubbing/drinking – isn't really my scene!
I have discovered that Autumn/Fall is my favourite season.
My Birthday is in December.
I work in the Fragrance/beauty industry.
I used to avoid going on Twitter as I really didn't like it……. soooooo apparently that changed lol.
I have pet rats (don't freak out! They are very clean, intelligent, and massively friendly animals 🙂 )
First band I ever saw live was Pendulum!
Wooo all done! Now I am off to inform these wonderful bloggers they have been nominated for a fabulous new award!