Optrex ActiMist 2 in 1 Eye Spray and Warming Eye Mask Review
A short while ago I was contacted asking me to review a couple of products from Optrex; the ActiMist 2 in 1 Eye Spray for dry and irritated eyes, and the warming eye masks.
I've always had slightly sore/tired eyes but never really knew why, but in googling it (always a bad idea with anything medical as it will tell you it's a heart attack or something else extreme!) and talking to people with similar symptoms, it turns out my "tired" and sore eyes, are actually dry eyes!
I am not the best sleeper and if I am tired my eyes do become really uncomfortable but again that seems to be a symptom of having dry eyes, and it always concerned me as you only ever get one pair of eyes so it's important to look after them and try to not strain them too much which can be hard with all the screens we look at these days.
After finding this out and being offered the opportunity to try products to help my eyes, I was more than happy to try them and do a review for you all.
The first one I want to talk about is the ActiMist 2 in 1 Eye Spray for dry and irritated eyes.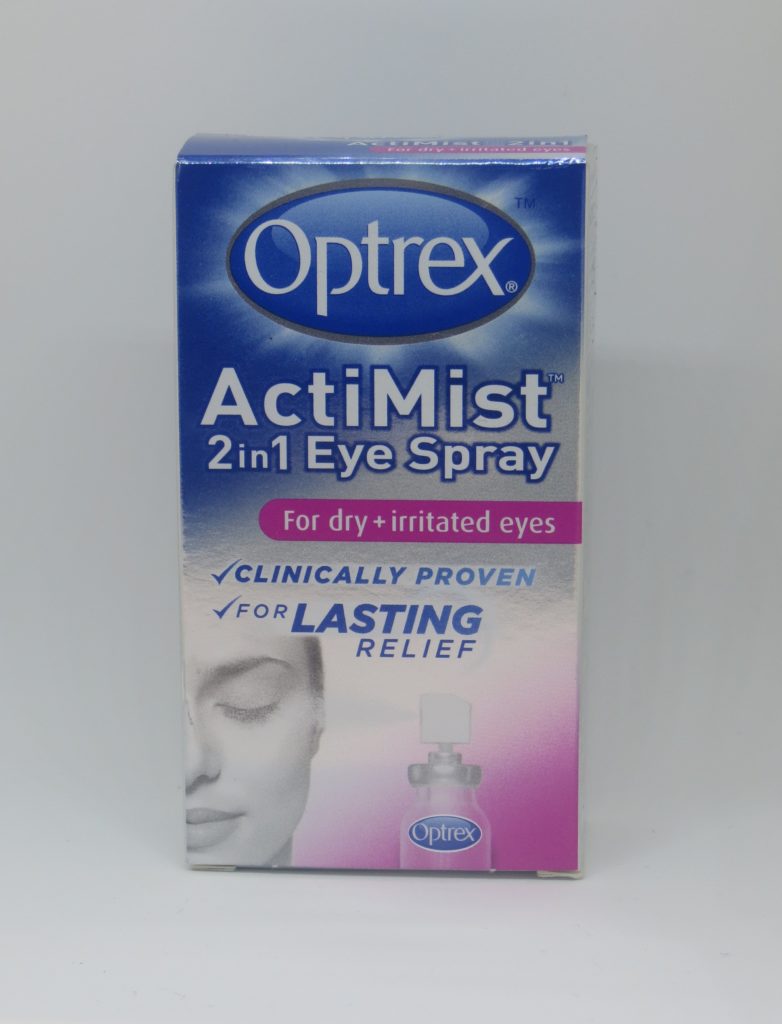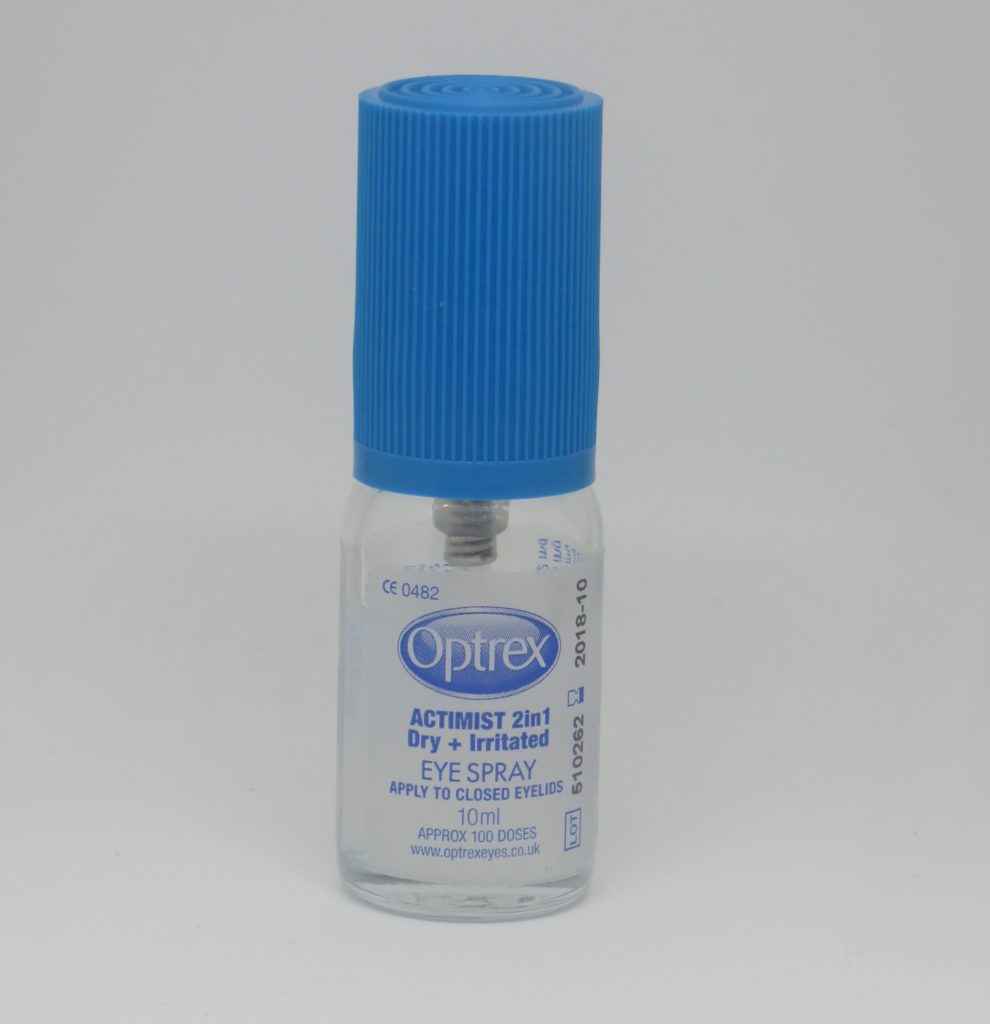 This product is designed to repair your eyes natural moisture barrier to reduce loss of moisture in the eyes, it provides relief for up to 4 hours which I find was fairly accurate! If I was out all day I found that I was only re-using it once or so, but you can use it up to 4 times a day so you've got the freedom to use it as you need to.
I found that the best relief was given for the first couple of hours but I didn't notice my eyes were feeling a little sore again until 4-5 hours or so later so in that aspect it definitely helped.
What I loved most about this little bottle is that it's so travel friendly (I can use eye drops but I always need to wash my hands, use both hands and use a mirror), where as this you just need a couple of quick sprays and you are all set, and not only that, you can use it on top of your makeup without it smudging or creasing any eye makeup! Bonus!
You can see from the tiny amount that's left in the bottle as to how much I have used it. What I do now is I use proper eye drops in the morning before my makeup and then just use this as a "top up" as and when needed! Love this and will definitely repurchase this when it runs out.
The second product I got sent was the Optrex Warming Eye Masks and I was initially more excited about trying these than the spray. Anything to make your home feel like a spa right?!
I was sent a pack of 2 original warming masks which are fragrance free but have since found out you can also get Lavender scented ones (exclusively at Boots) which sound lovely!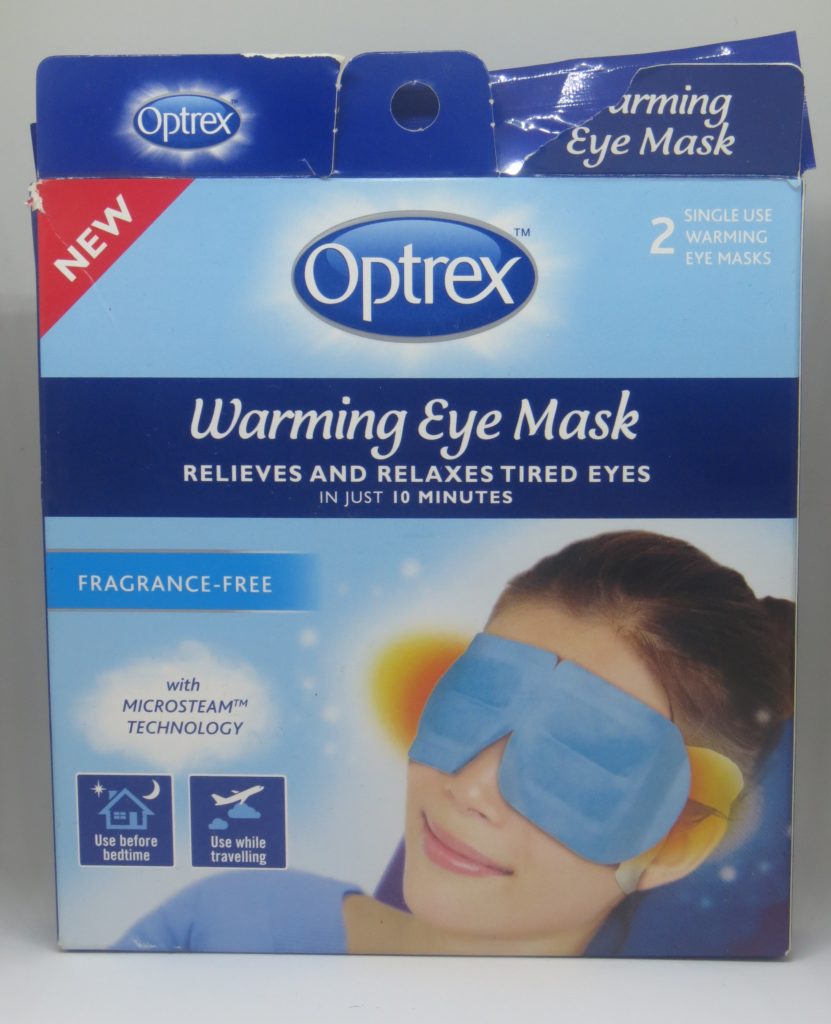 The masks themselves are self heating, so as soon as you take one out of the individual packets they start to slowly warm up with microsteam technology which is to help again moisten and soothe tired eyes. It only takes about 10 minutes for the mask to have fully warmed up (it doesn't get hot, just lovely and warm). Also don't worry about the technology being called "microsteam", there is no steam you can see or feel, it's just the way it helps soothe the eyes.
Optrex actually have their own playlist of relaxation tunes designed to go hand in hand with these masks which I think is a lovely idea! Click here for the link and it will take you to the playlist on youtube with all 5 tunes.
I can totally understand the need for these, for at home to relax or when travelling or even at work if you are able! I really enjoyed using them but personally I doubt I'd buy these on a regular basis, partly because I used them as instructed before bedtime, but you aren't supposed to fall asleep with the mask on… Have you ever tried lying in the dark at bedtime with a relaxing tune on and your eyes closed and NOT falling asleep? It's tricky! I would happily buy these again for when travelling or if I feel my eyes need a boost, but I wouldn't personally do it so close to bedtime as my ability to relax that much and stay awake is faltering!
Overall I enjoyed using both of these products but out of the two I love the Actimist 2 in 1 Eye Spray just that little bit more and can see it becoming a staple product in my makeup bag!
Hope you enjoyed my review, I definitely enjoyed trying out these products for you all!
Katherine