Save The Blow Dry Shower Cap Review
This post is a hair related one, where I will be reviewing the Save The Blow Dry Shower Cap*.
This is a product I came across a while ago and really intrigued me from the start and I shall explain why in this post shortly.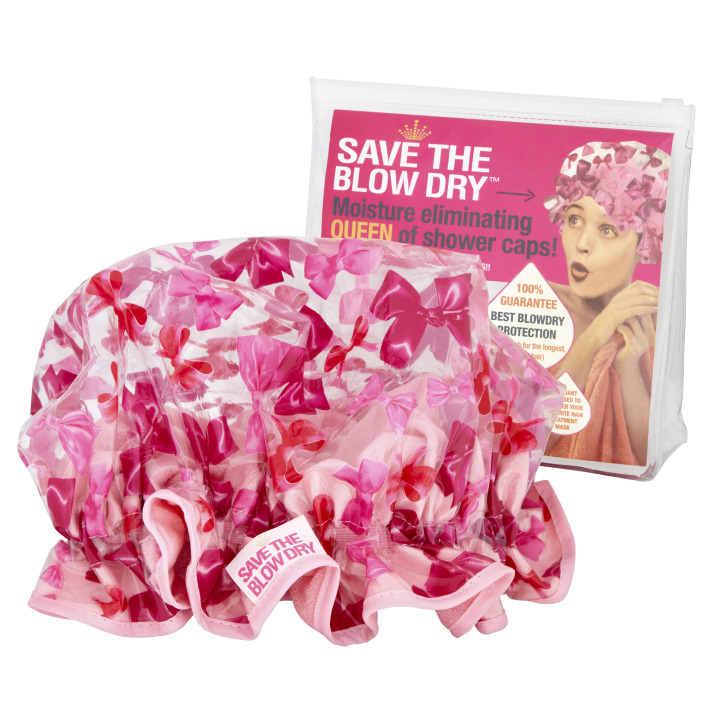 In complete honesty, I thought all shower caps were the same and that there couldn't be that much variation between them, which is probably still fairly true, but with this one it is different.
As many of you already know I have long hair, and as much as it's quite fine in texture, I have quite a lot of it and I find that quite a lot of shower caps are actually fairly small in size, which would be great, if I had a lot less hair! I usually have to try and pin it/secure it up first and then put the shower cap on over the top and then re-tuck in any strands that have escaped.
With this one, it's a very large shower cap so holds all my hair without the need for clips or hair ties. It fits snugly around your head without being too tight (though it will leave the "shower cap line" across your forehead as all shower caps do…) but feels secure, even with my long hair all wrapped up in it.
That in itself I find fabulous and already a much better product than any of the others I was using, but the real magic thing about this shower cap is the fact that it has a really soft micro-fibre type internal "cap" built in, meaning that all the usual condensation and moisture that can get in through the top plastic-type layer, all gets caught and absorbed up into the second layer, keeping your hair perfectly dry without making it neither flat nor frizzy.
I have honestly noticed a big difference between the two (being the Save The Blow Dry and a standard shower cap), as with this my hair still feels soft and ready-to-go, rather that usual feeling of mostly dry but not quite the same so will have to re-style it…
How great is that?! It's especially useful if you are not the best morning person like me, and so don't want to spend hours re-styling or re-straightening hair before work, with this you just pop it on, shower, and when you take it off you are good to go!
The shower cap itself is super cute, it's clear with little pink bows all over it, and with the pink internal lining showing through!
This shower cap retails at £14.95 direct from the Save The Blow Dry website, and while this may seem more expensive than usual for a shower cap, think about this… how long do you spend re-styling your sort of dry/flattened hair after using your standard shower cap? For me, this has helped reduce that massively. Second to that, it's really good quality so should last a really long time, and thirdly, they are partnered with a charity too!
Quote taken directly from the Save The Blow Dry website… "Every Save the Blow Dry sold through our website, directly funds a fortnight's safe drinking water for a family in the desert region of Khandel, making a basic, but vital difference to people living with constant drought, where temperatures soar to 45 degrees."
This time of the year, it could be a perfect gift for someone who either styles their hair a lot, or has long/thick hair and struggles with the standard sized shower caps!
Overall I really love mine, and will be buying more in the future for gifts!
What do you think of this? Do you like the sound of it? Do you have one? Let me know in the comments!