Rimmel Apocalips
When these first came out I remember swatching them in the store and not being hugely impressed, so I left them and never bought any. Then a couple of weeks later I was reading through various blogs and came across a few reviews saying they really liked them, so I decided to give them a shot!
I picked up two colours and in all honesty now, I can see why people like them so much.
The two colours I got were Nova (the pinkier shade) and Aurora (the slightly more red shade).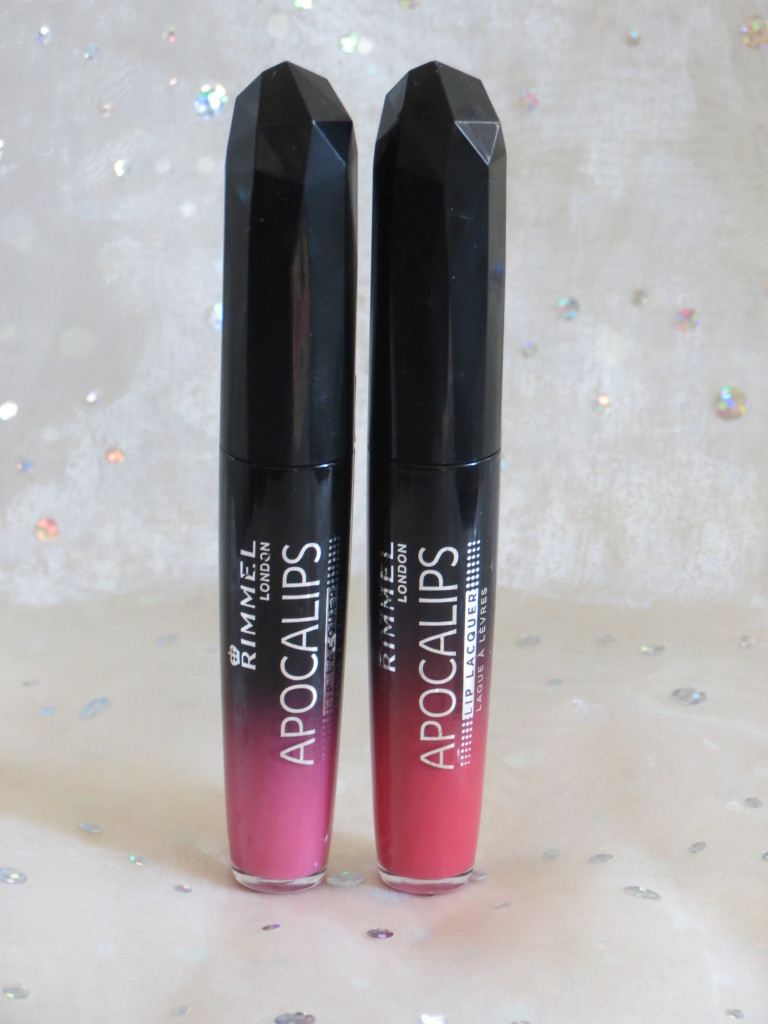 When first swatched on your hand they can feel a little thick and sticky and not very nice (hence putting off buying them to start with), but when applied to the lips they are actually very smooth and although they have a thicker texture than a lipgloss, they don't feel sticky or too thick at all.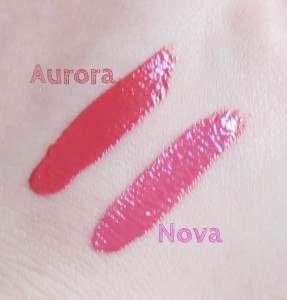 I would say from my experience they will stay on your lips for roughly twice the amount of time from a standard gloss, but not as long as lip stain or long lasting lip stick.
When applied to the lips they go on very smoothly and almost feel a little creamy in texture, they aren't sticky at all, and the colour payoff is instant.
After a while they can start to feel a little dry so the best way I have found to solve this is either apply another coat on top the way you would if you were topping your usual lipgloss, or you get a sheer/clear lipgloss and apply it over the top.
One thing I definitely would say with these lip gloss/colours is to make sure your lips are dry and clean, but also exfoliated and smooth. Any slightly dry/dead skin on your lips will stand out when you apply these so use either a lip scrub (bought or home made) or a soft toothbrush to buff your lips smooth, then apply a lip balm and let it absorb into your lips so that the Apocalips will glide on so smoothly with the most even distribution of colour.
I tried applying a lip liner across the whole lip under these to see if it would help the colour stay on longer, be I didn't really find much of a difference. Possibly because these glosses stain the lips a little themselves, there wasn't any noticeable difference when applied over the top of a lip liner.
To get these back off of the lips, due to the fact they do stain a little, I found the best way is just to use your usual eye makeup remover as a little will help it come off a lot easier than just trying to use water.
All in all I am glad I read those blogs and did pick these up, and as they retail at around £6.49 each they aren't too expensive either and I will definitely be getting some of the other colours in the range!
Have you got or tried these? Do you like the sound of them?
Let me know in the comments below!