No7 BB Lips
In this post I will be reviewing the BB Lips range by No7.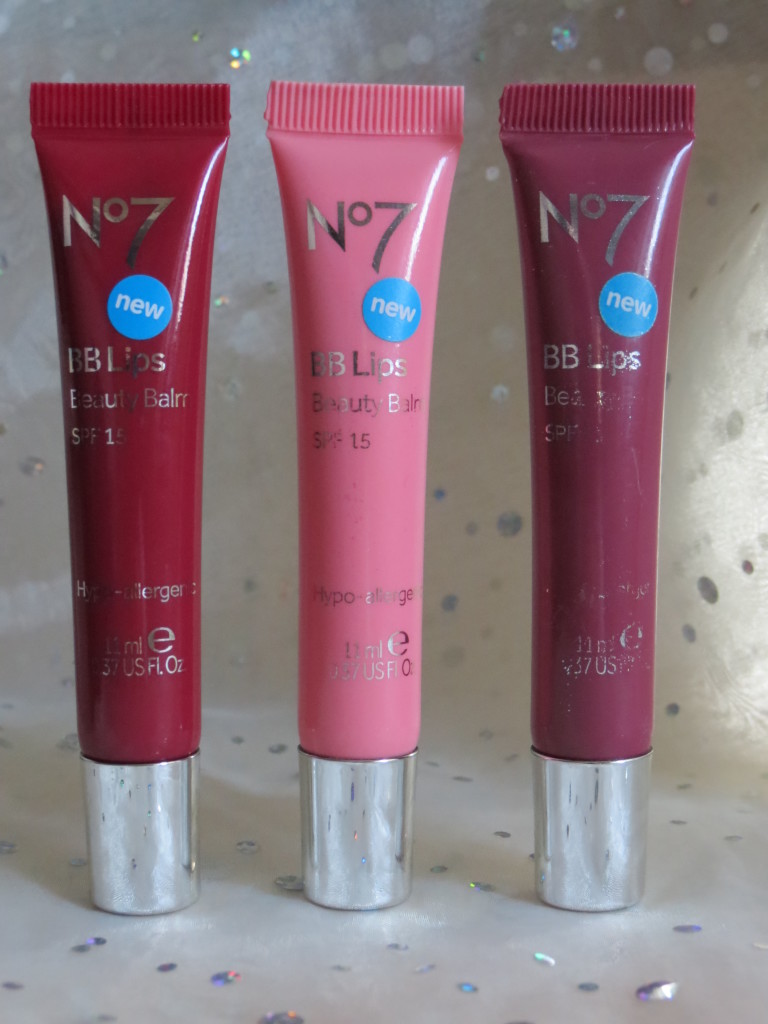 The first thing I will say about these, is that they will be nothing like you would expect!
At first look they look like a highly pigmented/really opaque lipgloss, with a lipgloss texture/feel to them… they are pretty much the opposite! When swatched on your hand they have a very pigmented look to them, on the lips they are very sheer with only the slightest hint of colour.
They look like a lipgloss, and if you rub it on your hand they feel like it too, and yet on the lips they feel like a lip balm. Madness!
The tube itself doesn't have a brush or applicator, it's the tube itself has a little hole in the top you squeeze the product out of straight onto your lips. Makes it easy to apply on the go which I like.
There is a total of 6 shades in the range, and they retail at £8.50 each, but Boots often have offers on. The three I own from left to right are, Berry Rose, Blink Pink and Belle Pink. The other 3 shades in this range are Blush Pink, which is a lovely light pinky/nude colour, Ballerina which is a lovely light pastel peachy colour, and then Blush Coral which is similar to the Belle Pink but with slightly more brown undertones rather than just pinks.
I have tried all 6 shades but these are my favourites. I do have quite pigmented lips though, so often paler shades don't suit me unless I put a little foundation over them to be able to get the true colour payoff, but that isn't an option for me with these as they are more of a to-go item.
Another plus point for these products is that they all contain SPF 15, so they are great to just "grab and go" with, as they are so easy to apply, mess free, and you don't have to worry about extra sun protection for your lips.
I think what impresses me most about these little tubes though are the fact that not only do they feel as smooth and hydrating as a lip balm, but they last for such a long time on the lips, I find they last the same amount of time if not longer than normal lipgloss, which is amazing considering how sheer and hydrating they are.
Now some of you may now be fearing that a squeezy form long lasting moisturising lip balm type gloss product would be quite heavy on the lips, but I can tell you now they are incredibly light, literally like a quick dash of lipbalm, nothing like even as "heavy" as a lipgloss.
Over all I really love this BB Lips range by No7, highly recommended you give these a go, even if you aren't normally one for wearing anything on your lips, you may be surprised at how much you like and use these.
Have you tried these? Do you know of anything similar?
Let me know in the comments below!