Natural Collection Body Sprays
So today I present to you… the Natural Collection Body Sprays!
Natural Collection is one of Boots own brands, which is very much a "cheap and cheerful" brand, and these sprays are no exception.
I am a huge lover of fragrance, so can be a little picky when it comes to what scents I wear/have round me, but I must say these have impressed me for their £2 price tag!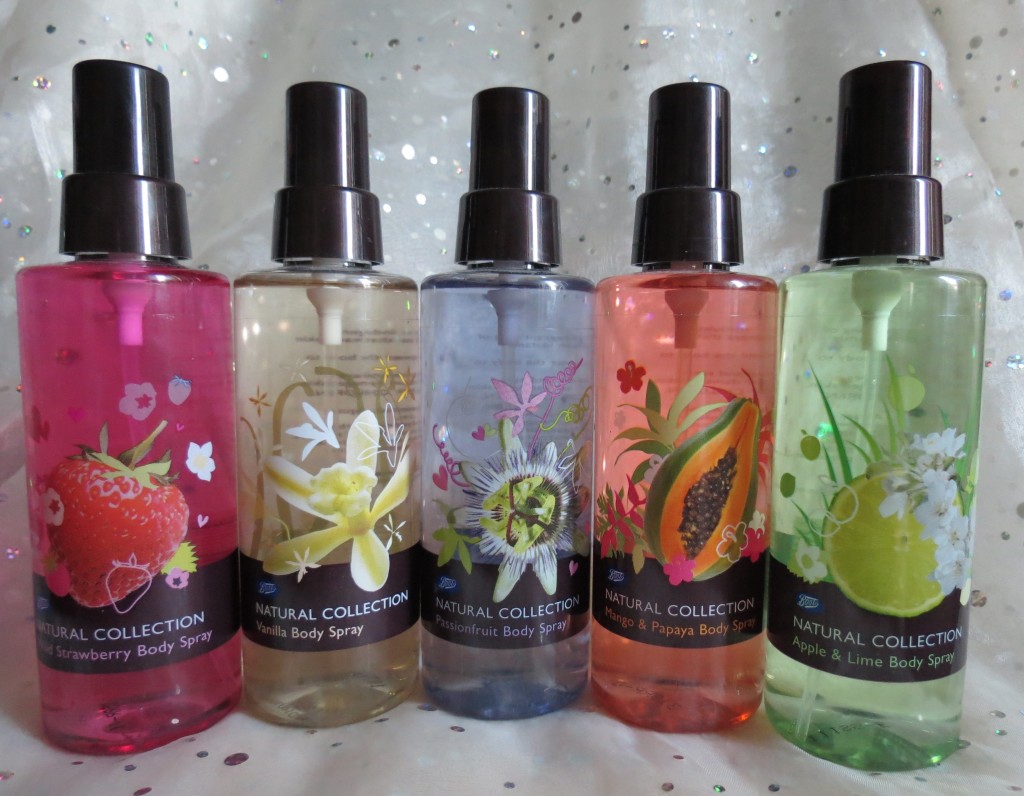 Left to right we have… Strawberry, Vanilla, Passionfruit, Mango & Papaya and Apple and Lime.
They do have other scents in the collection but these 5 are my favourite ones.
So for just £2 you get a full 150ml bottle of your chosen scent, which is amazing value as the scents are really nice. I was only going to get a couple, but for £2 each, who could resist.
I love perfume and fragrance in general and always like to be smelling nice! The problem I find is that there are certain times I want to still smell nice, but without having to spray expensive perfume, for example if I am staying home for the day, or before I walk the dog, sitting at the computer blogging later at night….. etc etc.
These scents are what I would describe as "fun" scents, they are fruity, sweet, girlie, light scents that just give a hint of fragrance when you need it! They will never be able to replicate or replace my higher end fragrances, as they don't last as long, the scents are not exactly true to life (for example the strawberry one smells more like strawberry sweets than actual strawberries), and they don't take time to develop and change on the skin as they settle down as a normal fragrance would – but for what I need and use them for, they are perfect!
These sprays don't moisturise the skin at all, so if you like scented moisturiser sprays then these aren't for you. But I wasn't looking for a moisturiser when I bought these, I was after some fun, cheap scents I could mist over myself when needed – and for that they have been really good.
I am sure that if you followed all of the proper "applying perfume for optimum staying power" procedures that you could get them to last longer on the skin (for example spraying them onto the skin just after you have had a shower, or just after applying body lotion), but I do wear regular fragrance a lot of the time and these are just normally for when I feel I need a quick spritz of something without needing to use the decent stuff!
I also love how pretty these bottles all look lined up next to each other in their bright colours, and have them sitting here on my desk next to me looking all lovely for easy reaching as and when I need them. The packaging, as much as it doesn't look high-end, I don't feel it looks overly cheap either which is a nice bonus.
Before anyone gets put off by the fact the scent doesn't last, there are bonuses to this – for example if you are staying in in the morning but going out later that day, or have a short while before exercise/showering… you don't need to use the expensive perfume in the morning and then again later, or you don't have to worry that if you spray yourself with one of these that you will still be smelling of it that evening – it will be gone in time for you to apply your perfume for when you need it most 🙂
Have you tried these? What did you think?
Are there any other brands of body sprays you would recommend? Let me know!