John Frieda Brilliant Brunette Shampoo and Conditioner
In this post I will be doing a review on the John Frieda Brilliant Brunette Shampoo* and Conditioner*.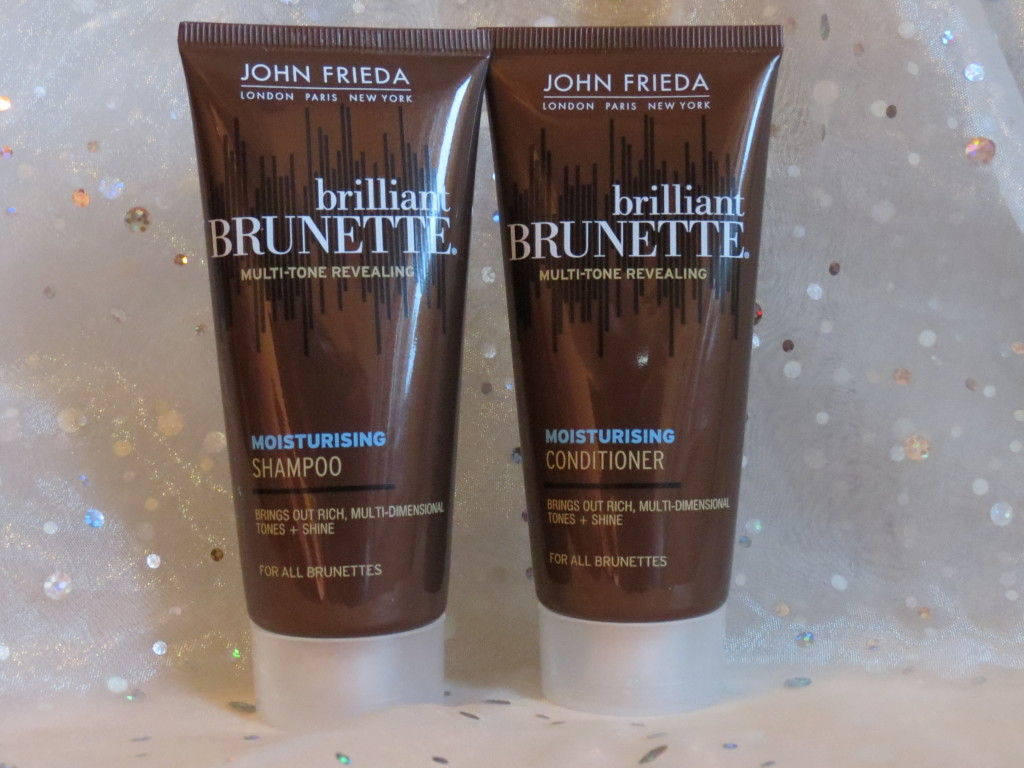 As some of you may have guessed from previous posts, I really love my hair care and hair styling products and I am always trying out new things. I have tried these out for a while before reviewing as I do with all products, not just after the first use as I find that you generally need to give products a chance to work for you.
Now generally I prefer higher end products for my hair as I do find they give the best results but I am also more than happy trying out cheaper brands as some of these can be amazing for the price.
This is the moisturising shampoo and conditioner from the brilliant brunette range, but they have various other ranges on their website so will most likely to have something to suit your hair colour/type.
I have coloured dark (brunette) hair and I really hate it when the colour fades! (Who doesn't?) So I reckoned these may help keep the colour and shine lasting a bit longer than  it would usually, and I would say I think they do. They aren't specifically to keep colour lasting longer than usual, but as I already had the colour in I wondered if they would help bring out some of the various tones I have going through my hair as they are starting a dull a little as it was a while ago I last coloured it, and it did!
Now it won't colour your hair, highlight your hair or cover touch-ups, it is just a shampoo and conditioner, but they do bring out a bit more shine and even a family member noticed the multitude of tones in my dark hair! That sold it for me, the fact someone else noticed and complimented me on it.
Now as a shampoo and conditioner, I generally prefer the high end products as I mentioned before, but I was pleasantly surprised with these. The shampoo cleans the hair well without stripping it, it has a lovely texture and smell, and really does add the shine and bring out the tones in my hair. The conditioner is a little more everyday for me, in that I do like it and have been using it and I wouldn't complain about it as such, but I don't feel it is as rich and moisturising as my other conditioners. Then again I have been known to use the treatment masks as daily conditioners and that was what I was using before this so I can't really complain! When I don't use the conditioner I find the colour isn't as mutli-dimensional though so it is a duo I would use together.
I know that in general with most brands their products are designed to work together, and I know that John Frieda also have a range of hair colours which claim to give smooth and rich hair without any drips or mess! Dark/bright hair dye mess is a nightmare, so I am really curious to try these to see if the colour is as good as it looks! I love reddish browns so quite like the look of the Dark Red Brown.
John Frieda also have a YouTube channel which is pretty cool, showing loads of styling tips and gives a look at/how to use their products which can be good so you can see exactly what you want to buy and what you think will work best for you 🙂
All in all I was pleasantly surprised by this duo, and as much as I won't be straying too far away from my high end products, I wouldn't be too surprised if you see these in a haul some time soon!
Have you tried any of these products? Even from some of the other ranges? (The red one appeals to me also as I do sometimes put red colours through my hair.) What did you think? Let me know!