Givenchy Dahlia Noir
In this post I decided to talk about a beautiful fragrance that is one of my favourite lighter autumn scents – Dahlia Noir by Givenchy.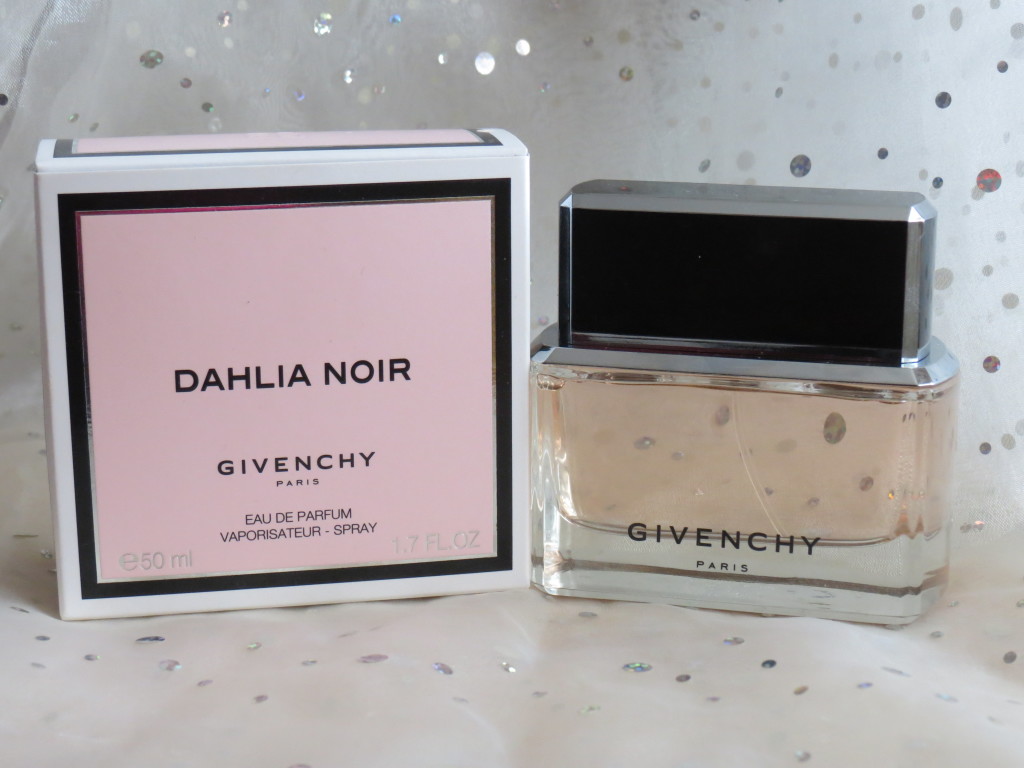 I really love the packaging of this perfume, for both the box and the bottle.
The packaging of both the box and the bottle of a fragrance is really important to me. As much as it shouldn't really be within the decision making process when buying a new fragrance, it is something you will have spent quite a lot of money on, and will be sitting out on show for the next year or two so helps if you like the look of it too!
I always try to keep my fragrances in their boxes, as it keeps them away from any light and helps to keep them from going off too quickly as it takes me a long time to go through a perfume as I have a few and I like to alternate them.
So onto the fragrance…
This is a beautiful scent, it's delicate, feminine and girlie but is also slightly spicy and warm so I love it for the cooler months.
The top notes in this fragrance are Mandarin Orange, Pink Pepper and Mimosa, the middle notes are Iris, Patchouli and Rose, and then the base notes we have Sandalwood, Tonka Bean and Vanilla.
It is classed a powdery, woody floral scent. Which even I will admit, doesn't sound too appealing, but when you smell it you will get a slight sweet powdery scent with definite floral notes, all with a slightly spiciness to it.
The eau de parfum version of this fragrance is quite a bit more intense than the eau de toilette version and has a much more spicy/powdery smell where as the eau de toilette is a lot more delicate in floral. I personally own the eau de perfum version as it's the warm, floral, powdery scent which I enjoy, plus it lasts on my skin for such a long time.
As much as I keep calling this fragrance spicy, to me I can smell a lot more floral notes than spice, but the spice is there helping it come across warmer rather than fresher, making it perfect for the cooler months or evenings where you maybe aren't after a very light fresh/floral fragrance.
This is the kind of scent which smells and makes you feel, expensive. It's a higher end perfume but not over the top price wise (I got this 50ml last year when it was £61). You spray it onto your skin and instantly get this wonderful luxurious scent back. It's perfect for an evening out, or if you just want to cheer yourself up (perfume in general is amazing at doing this and the first thing I do if I need a bit a bit of pick-me-up).
The other thing I find about this fragrance in particular is that it's almost addictive… when I first sprayed it onto the back of my hand to try it, I found that for quite a long time after deciding I did like it, I was still going back for another sniff… it's a really beautiful scent.
Over all I think this is an amazing fragrance, if you like warmer, powdery or even just very rich feminine scents then I would definitely advise giving this one a go.
Do remember it will smell differently on different peoples skin, so you may find on you it comes out slightly more floral, or even slightly sweeter than how I have described. The best idea is to give it a go, and let it settle for a short while before deciding whether you like it or not.
Have you tried this before? Do you like the sound of it? Let me know in the comments below!