Garnier Ultimate Blends Shampoo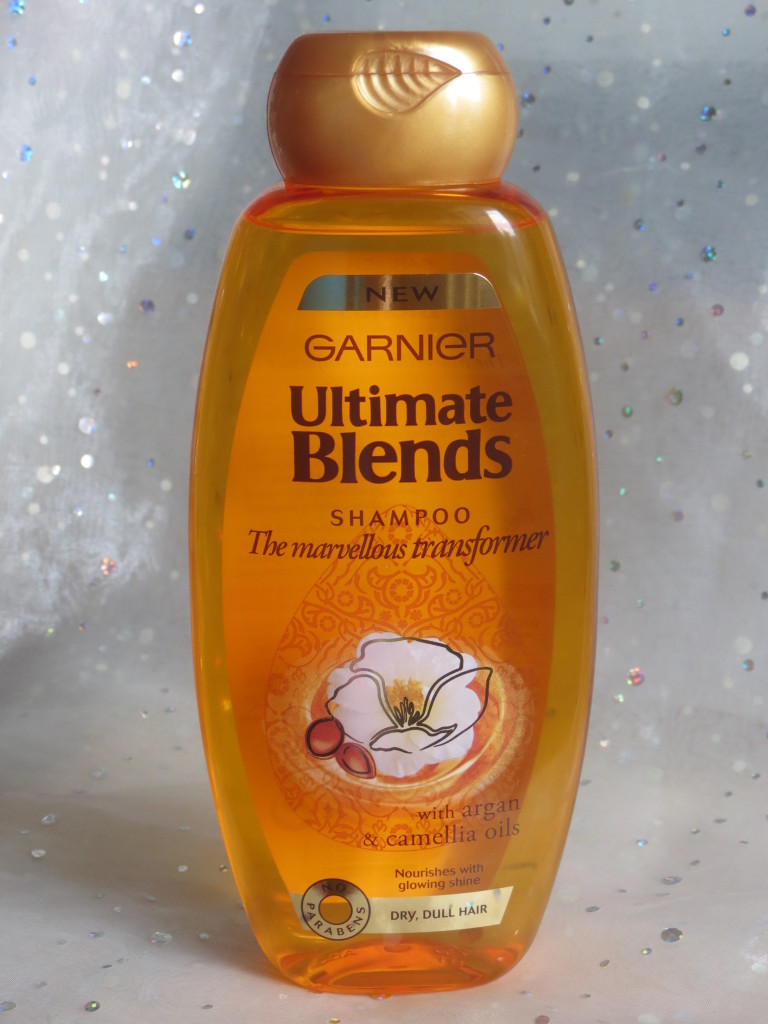 This review will be on the Ultimate Blends Shampoo by Garnier.
It was first recommended to me by a work colleague and I'm all for recommendations so obviously I purchased it as soon as I could.
The one I picked up was the one for dry/dull hair which has argan and camellia oils in it and is also paraben free which is a huge bonus too.
It appealed to me straight away as the packaging is really lovely. It's not too girlie or over-done, just nice and simple but with a bright eye-catching colour. Within the range they have others for coloured hair and other various ones with different coloured packaging but this is the one I fancied trying first.
I was a little skeptical about how this shampoo would be, as when I first saw it as it was on an offer to be able to buy it for less than £2 for this massive 400ml sized bottle! It was a little worrying as usually cheap shampoo/hair products can be a bit pants, but not this one! I was really pleasantly surprised with this.
It's got a lovely light clean scent, slightly floral but the argan and camellia oils in it give it a lovely warm richness to it too.
I decided to go for the one which is specifically aimed at people who have dry and dull hair, and in being completely honest, I have neither of those… The reason I went for this one is that I like to give my hair as much shine and moisture as I can, so I always go for the most conditioning ones within ranges (unless I need something more specific like one for colour treated hair).
I actually really liked the way it made my hair look and feel after just one use which really impressed me. It didn't strip the hair, make it feel dry, oily, weighed down or flyaway at all. It really was very moisturising and smoothing on the hair.
Sometimes after having used a shampoo for a few weeks it can start to lose it's effect on the hair and you won't feel like you get the same results as you did at the start, but with this shampoo I found that it never got to that stage and as a result I have already finished one bottle of it, and have already purchased a second bottle!
Overall I really am impressed with this shampoo and will definitely be picking up some of the others in the range at some point soon, along with the matching conditioners.
Price wise, even full priced the shampoos and conditioners are all just under £4 each and as I said earlier they can also be found on offer in various stores at just under £2 each which is crazy considering it's such a lovely product and a really good large size of it too.
I really would recommend giving this shampoo a shot and seeing what you think of it yourself!
Have you tried anything from this range or would you like to?
Let me know in the comments below!