Very Inspiring Blogger Award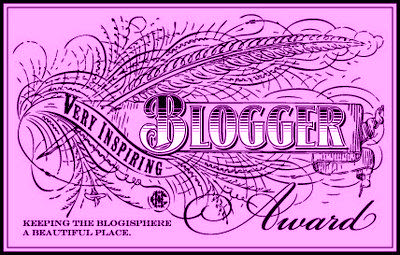 So I got nominated for a different type of blogger award! Feeling a bit special 😛
This time it was the Very Inspiring Blogging Award, and I was nominated by the lovely Jodie at MwahMakeup!
The rules for this award are very simple:
Display the logo on your blog and link back to the lovely person who nominated you/your blog, you then share 7 facts about yourself, nominate 10 other blogs you enjoy reading, and then inform them you have nominated them! Simple as that! 😀
So 7 facts…
I have naturally pretty much poker straight hair.
I am qualified in Computer Technical Support.
I am a dog person.
I am also a huge fan of home decor and home accessories.
I have a huge love for lists and folders, plus general stationery is generally a winner.
I am actually a bit of a geek, sitting here in my superman tshirt 😀
I have issues going to bed early! (Need to fix this!) I will quite often be found online at strange times of the morning, even when I have to get up early.
Now for the bloggers/blogs I am nominating!
(Some of these blogs may have been nominated before but I have my own reasons for nominating them)
Katie from http://katiesworld-ofbeauty.blogspot.co.uk/
Megan from http://www.littlemissaverage.com/
Claire from http://fatgirlskinnyjeans.wordpress.com/
Sheen from http://goldenandsheen.blogspot.co.uk/
Girlies from http://www.smekahmakeup.blogspot.co.uk/
Sophie from http://eskaybeauty.blogspot.co.uk/
Megan from http://parksheartsit.blogspot.co.uk/
Megan from http://blondeslovecupcakes.wordpress.com/
Lucy from http://cheshirebeauty.blogspot.co.uk/
Nyss from http://missnyssbeautymagpie.blogspot.co.uk/
And that's it! 😀 Thanks again to Jodie for nominating me!