Sunshine Award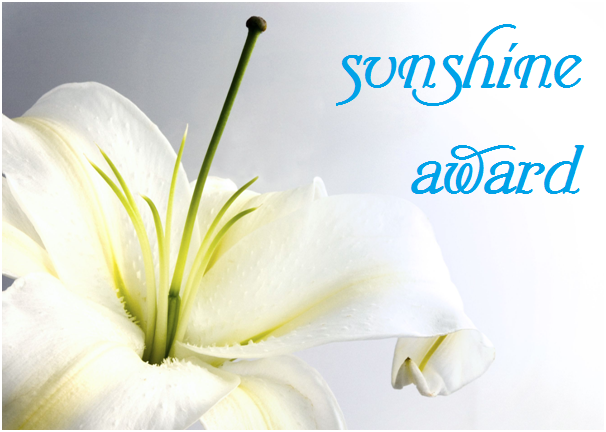 So I have been nominated by two lovely ladies for this award, Jess from Dungarees and Donuts and Aisling from Blossom Beauty.
So the Sunshine award is given to bloggers who are positive, inspiring, creative or whos blog you just really enjoy reading (so I am flattered that these two gorgeous ladies both nominated me!).
The rules are similar to that of the other awards:
List 11 facts about yourself
Answer the 11 questions from the blogger who nominated you (I will do the set given to me from each of these girls)
Nominate 11 bloggers you feel deserve this award
Write 11 questions for them to answer in their award post
Let your 11 bloggers know you have nominated them
Okay so… 11 facts about myself!
This is getting trickier, as I now need to come up with 11 things, different to what I have said in previous awards, and different to what my answers would be to the following 22 questions! Let's see…
As of December this year, I will be classed as "mid-twenties" and I am not sure how I fee about this yet!
I don't like coffee.
I can only read one book at a time, I can't have multiple stories on the go!
I don't like travelling on my own (proper travelling I mean, not just to go shopping).
I really really dislike the dentist! (By this I mean going, not the man himself.)
I adore Christmas and the whole Festive season.
I like snow if I am off work but really hate driving in it!
I didn't like school but I loved College.
I still have no idea if The Nightmare Before Christmas is a Halloween or Christmas film.
My star sign is Sagittarius.
I only have one sibling, a younger brother.
So that was 11 facts about me, now to answer the 11 (22) questions asked to me by the other girls!
Jess's questions:
Favourite beauty product of the year so far? Probably my Benefit Stay Flawless Primer! Really love it!
What programme is your guilty pleasure? The Big Bang Theory.
What's the most outrageous thing you've done to your appearance? (bright hair, weird piercing etc) Nothing really! Never bleached my hair apart from really blonde highlights a few years ago… probably that!
What on a blog makes you follow? If they person themselves seems lovely, and if you can tell they really love their blog and are blogging for the right reasons 🙂
How did you think of your blog name? I wanted something simple, that was easy to remember, and clear as to what it was about.
How did you meet your best friend? Online!
One thing you want to do before your next birthday? I only have 2 months left, so nothing too extravagant, but I would like to get into the habit of eating a bit healthier.
Favourite high street store? I love Internacionale. 
Something you cannot leave your favourite store without? This time of year? A big cosy jumper.
How many blog followers do you have? On bloglovin on my blog (not profile) I have 434 🙂 A lot of my followers are on twitter though and I am nearly at 1000 on there woop! 🙂
Three things you can't leave the house without? Keys, Phone, Purse!
Now the questions from Aisling!
What is your favourite holiday of the year and why? Christmas! Because it is just immense. (Or as a proper answer, I love the whole atmosphere around Christmas time, and the cosy nights).
What is your favourite foundation? At the moment it's the Benefit Hello Flawless Oxygen Wow liquid foundation.
What is your most favourite thing to eat? I have a huge sweet tooth, but I also really love pasta.
What goal are you working on right now? Just trying to get my blog out there a little more and get some new readers as well as keeping the older ones 🙂
If you had unlimited funds what would you do with your time? I would love to rescue and give a home to rescue dogs!
What are your top 5 products to use? (can be skin care or makeup) – Moisturiser, Face Primer, Foundation, Bronzer, Mascara. 
What was your favourite childhood TV show? Any Pandy! (From when I was really little).
If you could give other bloggers one tip what would it be? Don't compare yourself to any one else or their blog! Too many people get disheartened that their blog "isn't as good" as anyone elses! How boring would it be if everyone's

 blog was the same? Be yourself, that's what people like to read in a blog 🙂

Dog or cat person? Definitely dog.
Who is your favourite band/singer? I don't really have one! I like big powerful voices though, like Il Divo!
Why did you start blogging? I wanted a place I could express my thoughts and opinions about products I use all the time anyway, and where it may be helpful to someone 🙂
So now onto the 11 fabulous people I am nominating for this award! In no particular order we have…
Now here are 11 questions these lovely ladies are to answer in their award post!
Is The Nightmare Before Christmas a Halloween or a Christmas film?!
What is your favourite time of days for reading blogs?
How often do you blog?
What book are you currently reading?
If you had a super power, what would it be and why?
What did you have for breakfast this morning? (Trying to think of new things for me to have but never have a clue!)
What is your favourite social media site?
What do you do about lighting issues for taking photos in the winter time?
What was the last pair of shoes you bought? (Feel free to add a photo into your post!)
Favourite perfume?
Are you a morning person?
All done! 😀 I am now off to inform these lovely ladies they have all been nominated!
I hope you enjoyed reading this!