Glossybox November 2013
I decided to mix things up a bit today and show what I received in this months Glossybox instead of Birchbox!
There are good and bad points to each box, for example the Glossybox boxes and general packaging are so much prettier than Birchbox, and I do hold onto the Glossybox ones to reuse. Unfortunately though I feel you don't always get as many high end samples in the Glossybox which was the whole reason for subscribing in the first place.
3 out of the 5 items here, full price, are less than £5.
In saying that, I was fairly pleased with this months box and I have been enjoying the contents so far, so I thought I would share!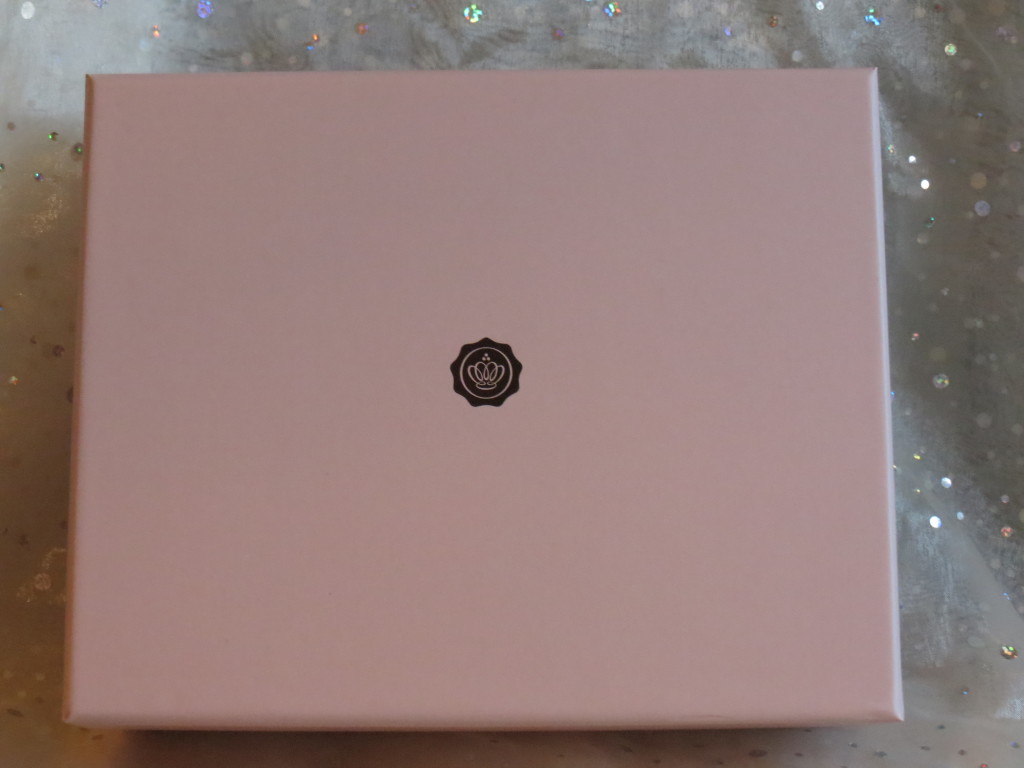 As you can see here the boxes are beautiful and come in a really lovely muted pastel pink colour, so still feminine, but also simple and understated which I really like.
You also always get the Glossybox magazine with it which is always a nice added bonus and a good read.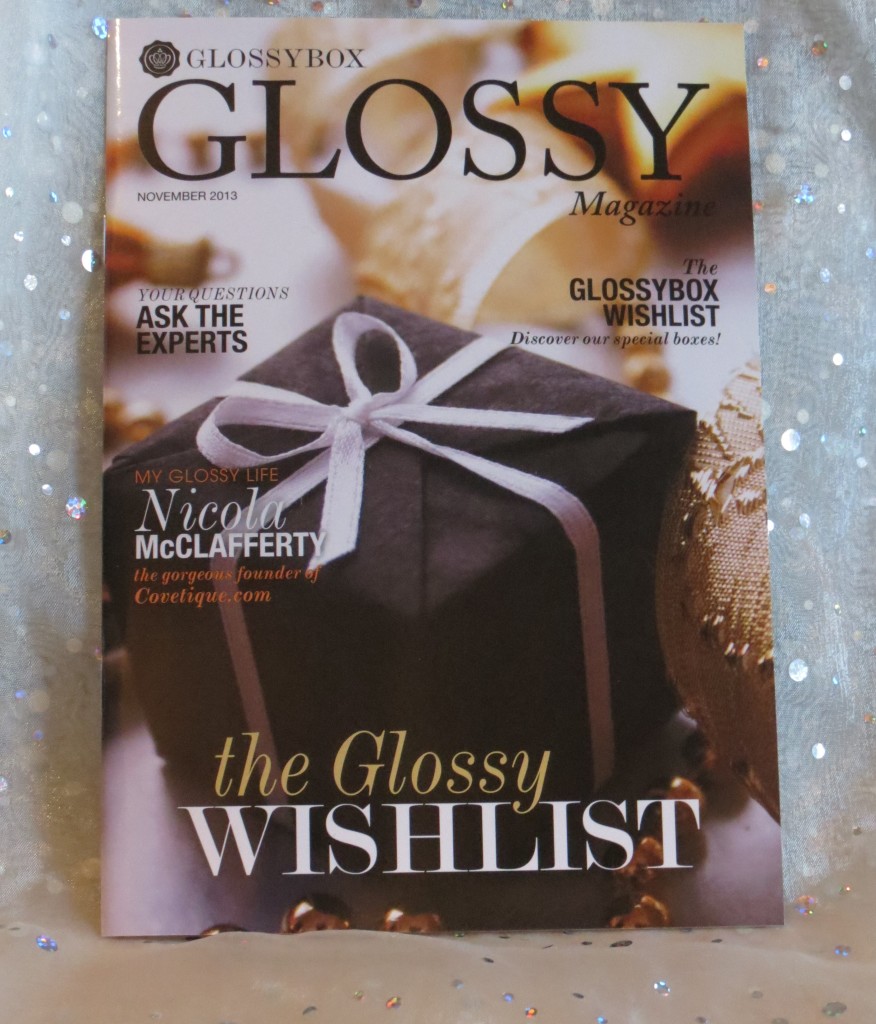 The magazine has a lovely high quality sheen/finish to it which makes no difference to anything, but I like it so thought I would add that in!
So onto what was inside this box.
As I said earlier, when looking at the full size product prices for 3 of these products it was a little disappointing to see that you can buy three of them, full size, for less than £5 each, purely due to the fact that it is claimed to be a high end/luxury subscription service. But having said that, I have been really enjoying the products in this box so is't not all bad.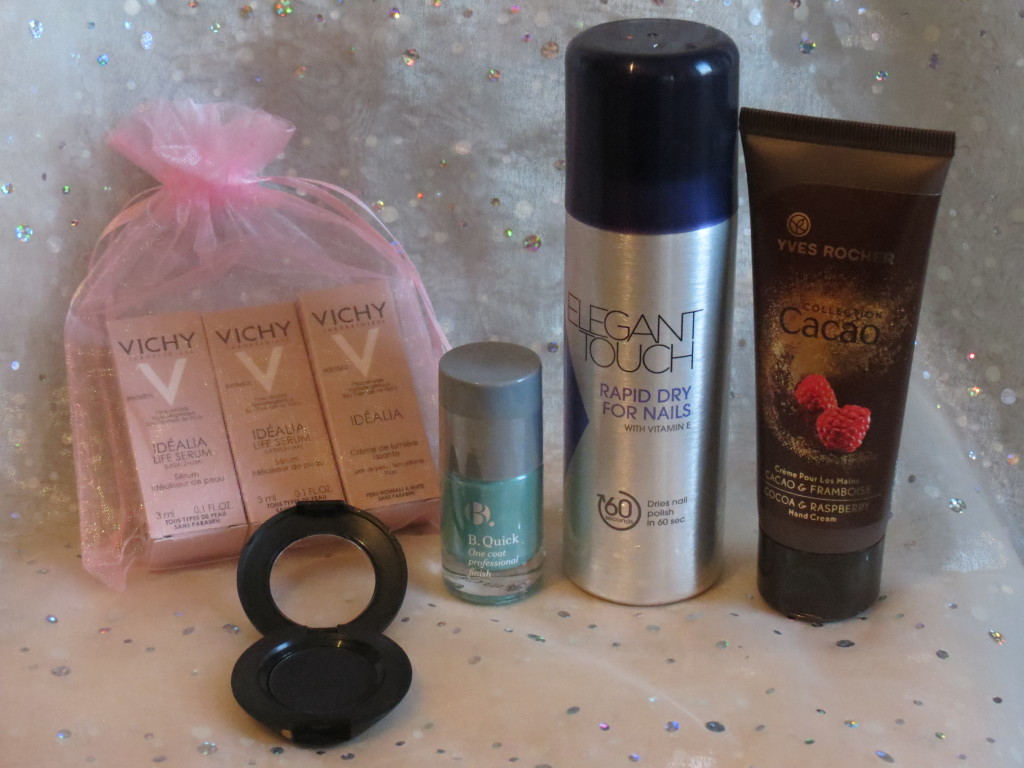 First up on the left we have the Vichy sample set in the lovely little pink mesh bag. In the set we have 2 x 3ml Life Serum – Skin Idealizer Serum, and a 3ml Smoothing and Illuminating Cream. This claims to transform the appearance of the skins quality, and helps to protect from the visible effects of stress, pollution, smoke and unbalanced diet. An all round skin saviour. Full size for 30ml is £29.50.
In front of that we have the Emite Micronized Eyeshadow. It's free from oil, nicklel, parabens and perfume. It is supposed to be perfect for contact lens wearers or people with sensitive eyes and due to the way it is formulated, give a great, even, long lasting finish. I got the colour Dans. This is the full size product which retails at £16.80.
Next to that we have the B. Quick Nail Polish and I was sent the colour 176 Mermaid. From first glace the name is really fitting, as it is a beautiful green/teal colour with a beautiful subtle matching shimmer throughout. It claims to be long lasting and has a wide brush and high-shine finish. High hopes for this one! Full size is £4.99.
The tall can next to the B. Quick polish is the Elegant Touch Rapid Dry For Nails. The claims for this is that it will dry your nails to a touch-dry state in just 60 seconds. I really hope this works as well as it sounds like it will as I am forever smudging my wet nail polish. It also is supposed to give a high shine finish and nourish cuticles as it contains vitamin E. This retails at £3.
Lastly we have the Yves Rocher Collection Cacao – Cacao and Raspberry Hand Cream. First impressions personally…. I love it. It smells like raspberry sweets wrapped up in dark chocolate. For the price of it, it's actually a really lovely hand cream to use. It moisturises well, sinks in to the skin well, and leaves your skin feeling really soft. At the moment I do love the scent, but being totally honest I can see myself possibly starting to get sick of it if I used it too much. Loving rich scent for this time of year though. This retails at £1.95.
So that was everything in my Glossybox this month! Next month for the Christmas boxes I will put the Birchbox and Glossybox items in one post!
What did you think of this months Glossybox? Let me know!