Giveaway for the Holidays!
I have decided to do this giveaway especially for the holiday season!
Everyone was so lovely in my last giveaway, and also just in general, that I wanted to thank you all again and do another giveaway 🙂
The reason it is running until the very start of December is that it gives me time to post it out, no matter where in the world it may all be going!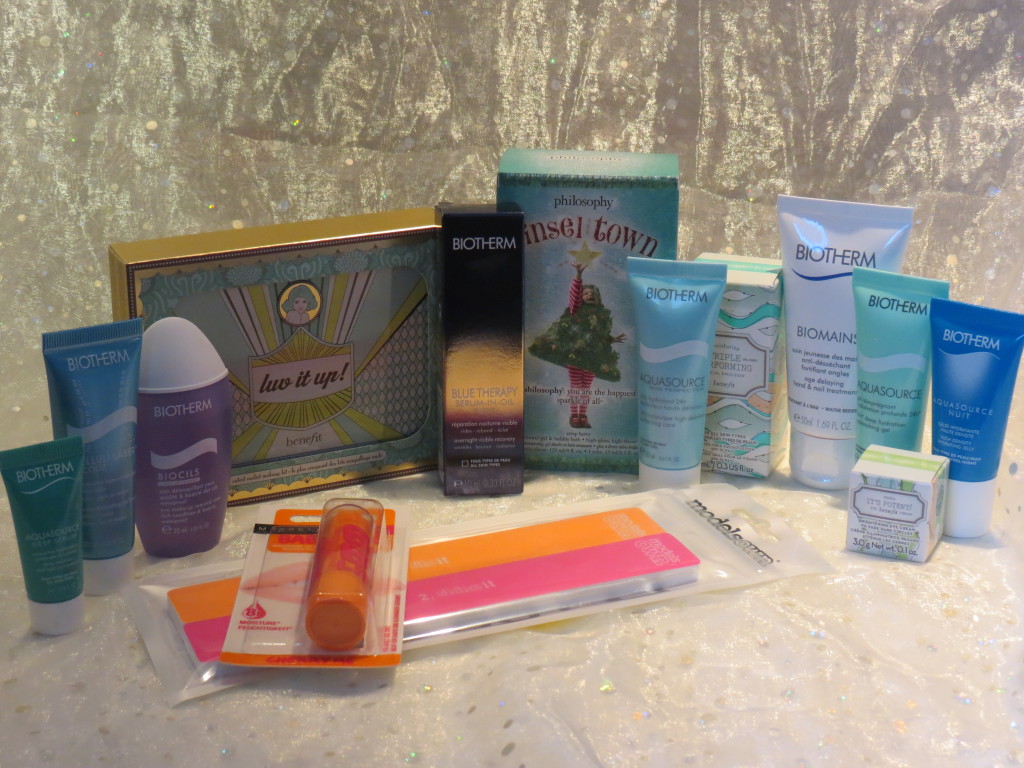 One lucky person will win all the products shown above!
It is one prize, but it's split into two sections really, full size products and then sample/trail/travel sizes.
First up the full size products: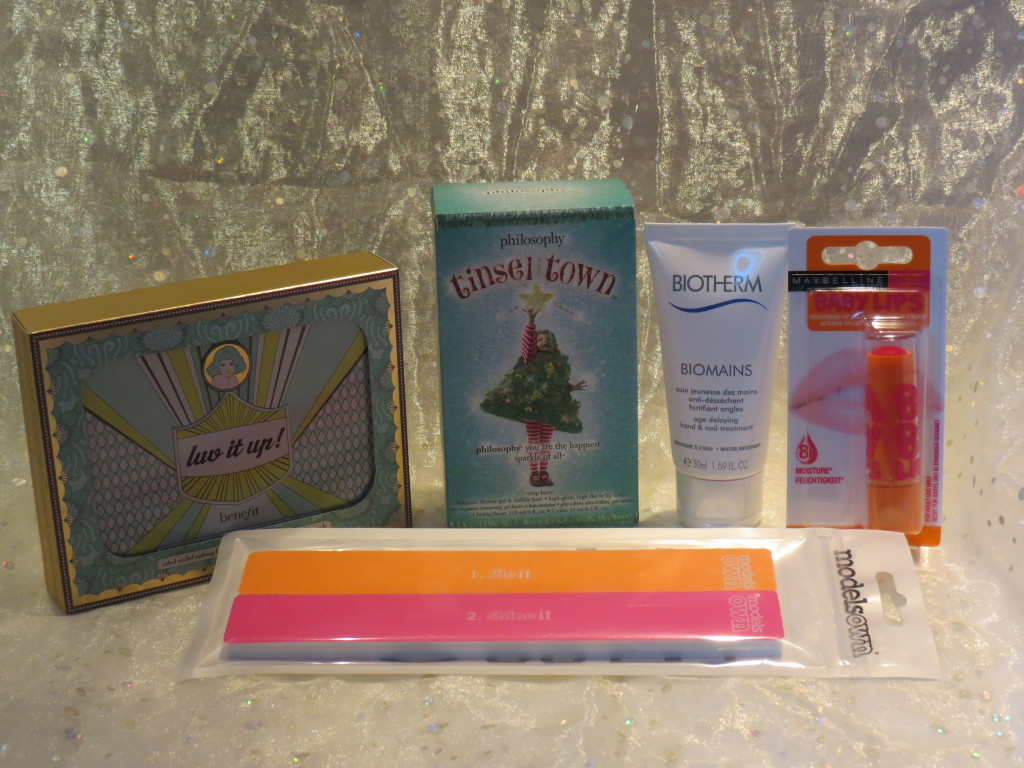 So we have…
Another limited edition Benefit product as the last one went down so well! This one is "Luv it up" and includes 3 pressed eyeshadows, a cream eyeshadow, and a lipgloss! Here is a picture of the back to show you the shades: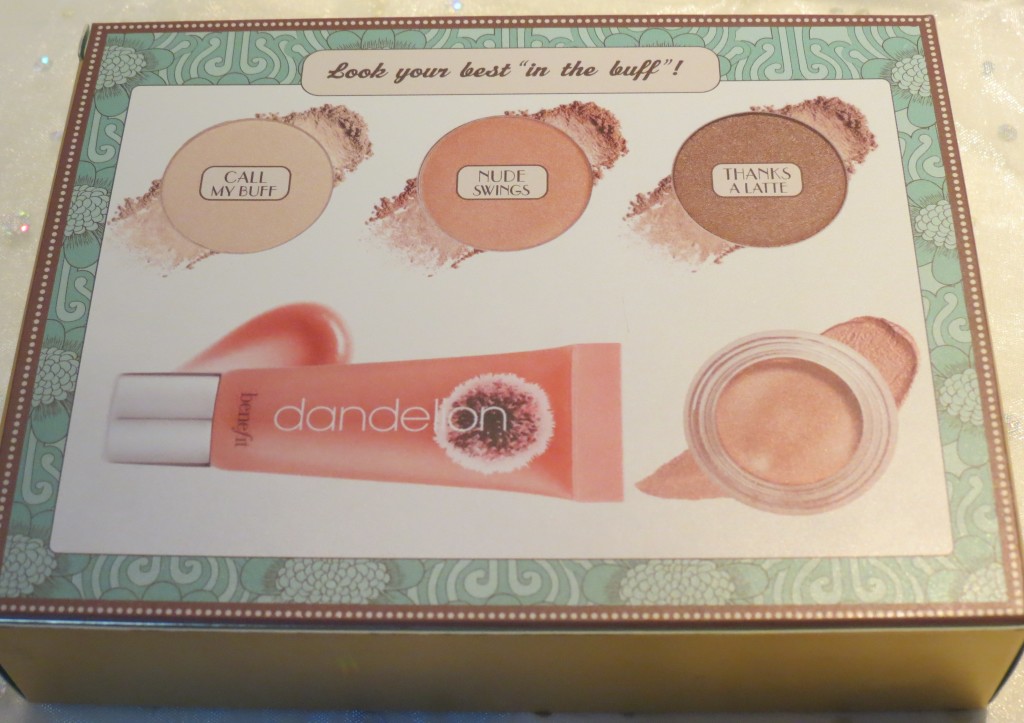 Next we have Tinsel Town by Philosophy! This is an adorable Christmassy duo. Inside there is a shampoo/shower gel/bubble bath in crisp berry (it's a deep pink/berry colour with a slight shimmer through it) and then a deep red shimmery lipgloss!
Next to that we have one of my all time favourite hand creams! It's the age delaying hand & nail treatment by Biotherm. Love this stuff.
Next to that is another Baby Lips – this one in "Cherry me" – the colour of course being perfect for this time of year, plus everyone needs lip balm in the cooler months!
At the front is a nail file/shine duo by Models Own. You get one for filing and one for shining! Great little set.
Then we have all the trial/travel sizes…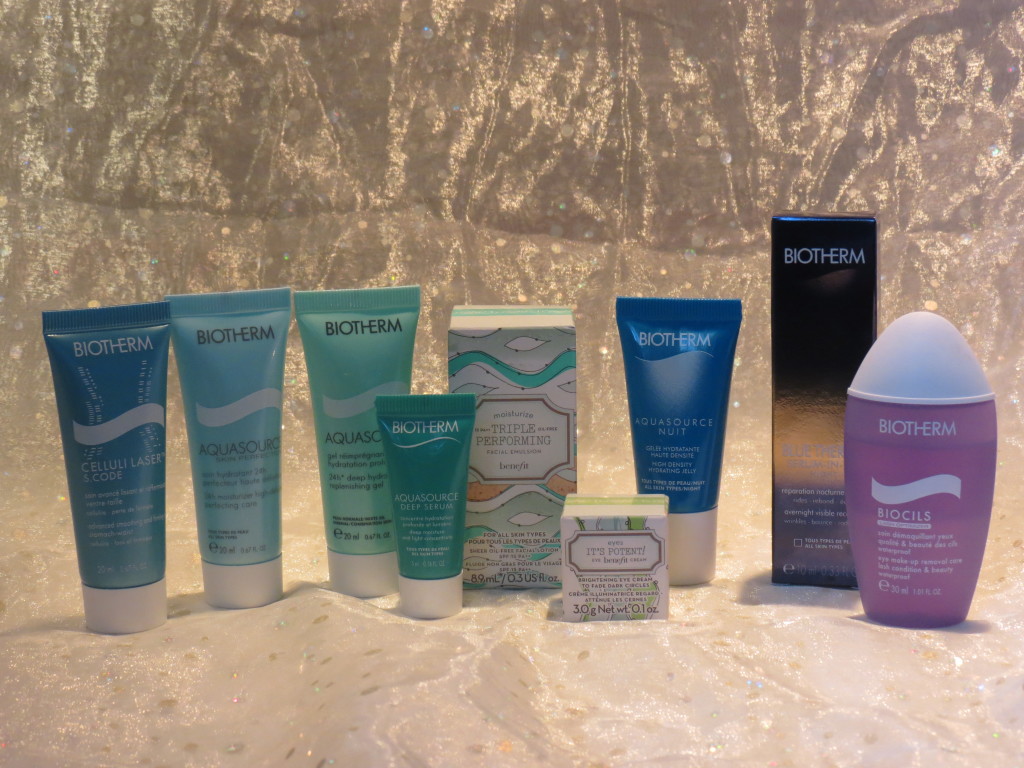 So to add onto all of those full size items, I then have another 9 to add in to this giveaway! I specifically got a lot of Biotherm products as it's a brand I love and yet not many people know about it!
Quick rundown of these products left to right..
Biotherm – Celluli Laser S.Code – advances smoothing and firming care – stomach and waist.
Biotherm – AquaSource Skin Perfection – 24hr moisturiser high-definition perfecting care
Biotherm – AquaSource – 24hr deep hydration replenishing gel
Biotherm – AquaSource Deep Serum – Deep moisture and light concentrate
Benefit – Triple Performing Facial Emulsion – sheer oil-free facial lotion spf 15
Benefit – It's Potent eye cream – Brightening eye cream to fade dark circles
Biotherm – AquaSource Nuit – High density hydrating jelly
Biotherm – Blue Therapy Serum-in-oil Night – Overnight visible recovery – wrinkles, bounce, radiance
Biotherm – Lash Optimiser eye makeup remover – smudge resistant removal of waterproof makeup (and one of my very favourite makeup removers ever).
I hope you like the look of this giveaway!
So the rules and info…
1 – You must be over the age of 18, or have a parent/guardians permission.
2 – This giveaway IS international.
3 – A winner will be chosen at random through Rafflecopter and messaged via email/twitter.
4 – Anyone entering using an account only used for entering giveaways will be disqualified.
So that's it!
Good luck!